Born to Drive: Interview with Car Enthusiast Bill Wisniewski
September 2, 2020
ISWebmaster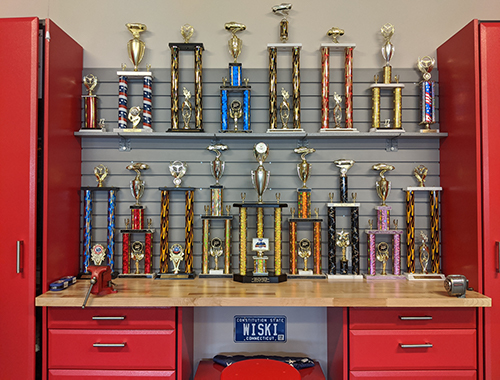 Brunswick Forest resident William "Bill" Wisniewski is something of a hot-rodder in his neighborhood. A man who has always been around and in love with cars all his life, Bill currently holds a great passion for his 2006 C6 Corvette. His reverence for vehicles is well known throughout the community, and we recently sat down with him to discuss what keeps his passions alive.
At first glance, you would not immediately recognize Bill Wisniewski as a "car guy." But take one look into the garage of his home in Meadow Park and you instantly realize that this is a man who takes his passion seriously! The floor of his garage is shiny and spotless, his shelves are lined with trophies from car shows across the East Coast, and his cabinets are stuffed with every kind of car care item you can imagine. Inside his garage you are treated to one fantastic sight that would make any car enthusiast stop and stare: A mint condition Corvette, black with cashmere interior. There is not a single blemish on the car, it is beautiful inside and out. The walls of his garage are lined with Corvette posters and car show plaques that he has won. Currently Bill and his sports car have won over 30 contests, even beating out much newer Corvettes from a more recent generation.
"I've been a car guy all my life. The first car I had was a '54 Ford with a swapped-out Thunderbird engine," says Bill. Just before he got married, he bought a '64 Pontiac GTO for just over $2,000 dollars. The next several years saw him purchase another used GTO, this time a '66, and several more vehicles. "I wish I could have kept them all!" Bill originally considered himself a Pontiac guy until moving to other vehicles, and loved spending time working on his cars, "I worked a part time job just to support my car habit," Bill says while laughing. His Corvette has never had any soap or water on it, just the right type of wax, detailer, and lots of love! "My detailing passions really started with my Corvette. It's relaxing for me." He is especially fond of using car care products like Maguire's on his vehicle, so much that at one point in his life he had become a sort of spokesperson for their products.
30444
false
true
true
false
true
true
false
auto
false
ease-in-out
300
auto
false
0
true
false
%curr% of %total%
Originally hailing from Stamford, Connecticut, Bill made many different moves throughout his life. He worked for the company Pitney Bowes in graphic design and technical writing for 25 years. Bill also worked for the town of Stamford for 11 years. Bill then retired from his final stint at the board of education and began moving about all sorts of different locations. This includes relocating to Norfolk, Virginia during his service in the United States Navy. After many adventures he finally settled down in Southeastern North Carolina. He has currently been living in Brunswick Forest for five years and loves it quite a bit. "The first time I came down here, I was looking at areas like Compass Pointe and St. James. The cost of living is very expensive in Connecticut, so North and South Carolina seemed like great places." A major factor missing from his real estate experiences, was being accommodated for in terms of a personalized experience. He wanted to feel more than just being "another number". On one occasion a Broker who had planned to meet him did not communicate properly, which lead to him being left without a community to tour. "I was put off by that," Bill says. He also at one point was thinking about moving to Charleston, South Carolina, but did not want the hassle of being in the middle of downtown.
Thanks to the help of agent Kim Fanelli, Bill eventually knew that Brunswick Forest was the right fit for him. "Kim is great," Bill tells us. Originally Bill had been attending an ideal-Living home show up in Connecticut where he made a bond with Kim. He felt that Brunswick Forest was the kind of place he wanted to make his permanent residence. "Brunswick Forest was a place that looked like a lot of fun." Bill states that he loves the master planned areas in the South, "They are very hospitable!" He especially loved the social clubs and resident-lead features of the community, where he could meet people right off the bat and instantly felt right at home.
Be it working on his prized C6 Corvette or being seen around the neighborhood; Bill is quite happy with living in Brunswick Forest and engaging in the lifestyle he loves most. If Bill's story has inspired you to make a move of your own, contact the Brunswick Forest team at: 855.983.9579