Ideal Living Shows – A Testimony
January 17, 2019
ISWebmaster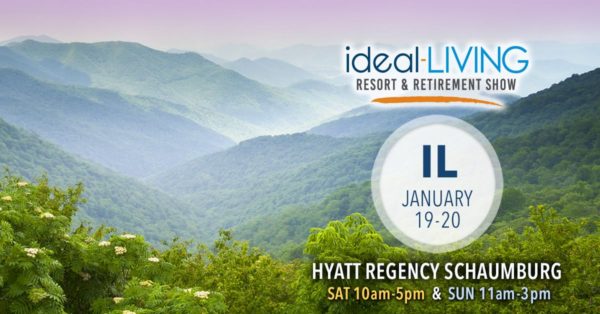 Finding that little slice of paradise that you have always dreamed of is easier than you think.  Sure, moving to a tropical island far away from civilization is what comes to mind for many people. What a lot of people don't realize, is that we have our own paradise right here, in Southeastern North Carolina. At Brunswick Forest, convenience and accommodations are right at your fingertips! Brunswick Forest residents, Steven and Denise White, found their paradise at an Ideal Living show.
Interviewing Mr. and Mrs. White was an informative experience, as they shared the details of what guided them to move to the Leland area.  "We first heard about Brunswick Forest when we attended an ideal-Living show in Parsippany, New Jersey.  There were a multitude of retirement communities present with many different locations to learn about, spanning from Tennessee to Florida." At the time, Mr. White was quite fond of the idea of moving to Arizona or Pawley's Island, SC. Despite all the choices presented at the ideal-Living show, the Whites were still drawn to Brunswick Forest!
"What really stuck with us, is how well Brunswick Forest is planned out. While other planned communities seemed walled-in or gated-off, Brunswick Forest encouraged us to be out and active, in the local area."  Denise appreciated the laid-back team that represented Brunswick Forest. "The people we met at the show were very casual and we never felt pressured at all. Brunswick Forest representatives were not pushy, and they were very easy to converse with. We quite liked that."
Steven and Denise were enthralled by the coastal charm of Brunswick Forest and just had to see it for themselves.  Taking advantage of the Coastal Discovery Package, the Whites enjoyed a three-day weekend experiencing our Coastal By Nature® lifestyle! "When we came down to Brunswick Forest, we had no expectations at all.  Our tour guide escorted us around the Brunswick Forest neighborhood, Wrightsville Beach and Downtown Wilmington as well. The Brunswick Forest team took us to dinner and treated us to a wonderful time." It was important to Steven and Denise that they weren't pressured into any sort of rigid routine and were able to explore the local scene on their own.
Denise enjoys the picturesque walking trails, the pool, golf course, fitness center, and especially the event clubs.  "The sheer size and openness of Brunswick Forest, as well as the active lifestyle, are all great" she said, "But, what truly sets Brunswick Forest apart from the other planned communities, was its centralized location. The Villages at Brunswick Forest offers banks, doctors, and other services. It's a great convenience not having to go all over town." With a location that is also not far from Wilmington, Southport, and pristine beaches, Brunswick Forest is described as truly having the best of all worlds.
Come to an Ideal Living show or try our Coastal Discovery Package. We encourage you to learn about our master-planned community and see what so many new homeowners are raving about.  A coastal lifestyle with supreme accommodation awaits you here at Brunswick Forest.
Listed below are the next trade shows.  COME SEE US AT THE SHOW!
Chicago:  https://goo.gl/BUkCgU
Philly:  https://goo.gl/D5md4n