Beach Activity Bonanza: Our Beach Day Checklist.
July 5, 2021
ISWebmaster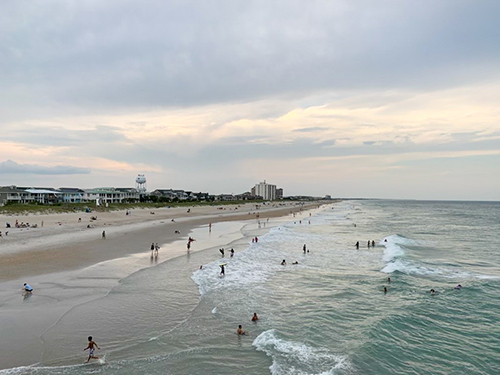 Popular beaches near Brunswick Forest include Oak Island, Caswell Beach, Kure Beach, Carolina Beach, Ocean Isle Beach, Holden Beach, and of course Wrightsville Beach. Each area attracts thousands of tourists and prospective residents each year. With so many activities to engage in at the beach, it can be a bit overwhelming to decide on how to best spend your day. Brunswick Forest has several recommendations that you can add to your beach day bucket list!
Bocce Ball:
Talk about ancient! Bocce ball has roots that spread back to the Roman Empire, with the first known documentations even going as far as 5,200 B.C. Bocce ball remains a popular outdoor activity to this day due to its simplicity. It's a versatile game that can be played by anyone just about anywhere you have a little space. The game is played with eight bocce balls, and a smaller object called a pallino or "jack." Usually, bocce is played with two teams. Once it's decided which group will go first, the pallino is tossed, rolled, or thrown down the court. The goal of bocce is simple; see who can get their ball closest to the jack. If your aim is good enough, you can even knock an opponent's ball out of bounds. But be careful, because other players can do the same to you! With so much open space, the beach is an ideal area to play a game of bocce.
Kite Flying:
Flying a kite on a windy day takes some practice but is a very enjoyable activity. Once you learn the basics, kite flying at the beach is a fun time for people of all ages. Being situated right on the water, the beach is one of the easiest areas to get a kite in the air due to the high wind. Kites come in all shapes and sizes, such as deltas, diamonds, dragons, boxes, and parafoils. Different type of kites are made for varying wind speeds. Usually, parafoil and box kites do best for the high winds on the beach, but just about any type will work. Once your kite is assembled correctly, simply run it fast enough into the wind until it gets enough air underneath it to fly. After the kite becomes airborne, it's just a matter of making sure you manage the length of string that you're holding. Release some slack in the line for the kite to fly higher and roll it up to bring it lower to the ground. Most importantly of all, make sure to be aware of your surroundings when you fly a kite!
Fishing:
Be it from a pier or on the shore, fishing is a big part of our local cultural identity. Wrightsville Beach, Carolina Beach, and Kure Beach are both known for their iconic fishing piers that have captivated people for decades. Landmarks like Johnnie Mercer's Fishing Pier can offer you a great spot to get a rod and lower your line into the water. Some of the fish you can catch on the beaches here include flounder, drum, Spanish mackerel, Atlantic croaker, and bluefish. Whether you're into the sport of fishing, catching fresh seafood for yourself, or maybe you just like being out on the water, fishing is a great way to spend your day at the beach. Some locations like Johnnie Mercer's, even have stores where you can purchase bait and tackle. If you're fishing from the shore, try searching for less populated areas of a beach so your line doesn't get in the way of others. Don't forget to make sure you have an updated fishing license before you go to the beach. They can be purchased in stores such as Walmart!
This summer when you're out on the beach, Brunswick Forest encourages you to try any of these super fun activities. If you're looking for even more options, you can also add the below to your bucket list as well: