Shelling in Southeastern North Carolina
July 22, 2019
ISWebmaster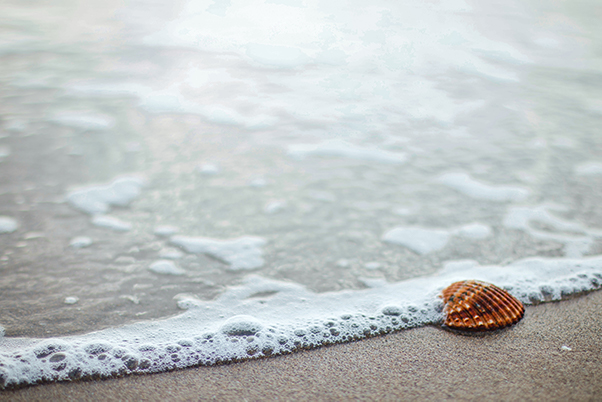 Picture this: you're walking along the shores on one of the five beaches near Brunswick Forest. You can hear the relaxing roar of salty waves crashing on the shore, the calling of gulls and pelicans' echoes through the air. Suddenly, something catches your eye as it glistens in the summer sun. You find a unique looking seashell, the perfect souvenir for your seaside adventures.
Hunting for seashells, or "shelling" as it's commonly called, is an activity that brings out the treasure hunter in all of us! What kind of shapes and sizes do local seashells come in? What sort of animal lived in these shells before it washed ashore? Did you know that your likelihood of finding more shells increases after a storm passes by? Waves and wind will often wash even more shell varieties on shore for you to find! These are all exciting questions you can ask yourself as you hunt for the perfect coastal souvenir. Due to the area's mild weather, beachcombers can take advantage of shell finding opportunities year-round.
Wrightsville Beach has been a tourist hotspot for many beachcombers over the decades. With its pristine dunes overlooking the blue waters of the Atlantic Ocean, there are a variety of shells that wash onshore. You can often find shells on the areas closest to the water, where the tide washes in a host of shells both big and small. There's plenty of coastline to work with as you hunt for shells, but with Wrightsville Beach being as popular as it is, you might have some competition! Periwinkles, clams and other small but lovely shells can often be found in this area.
For those looking for more remote locations that you can hunt for shells on, there are plenty of natural spots in and around the Wrightsville Beach area. Mansonboro Island Coastal Reserve is one of the most well-known barrier island getaways situated on the Intracoastal Waterway. You can reach this area by both kayak or boat, and the journey out to this spot is well worth the effort for any dedicated seashell collector. As you stroll along the sand and tidal flats, beachcombers are bound to find plenty of shells, such as whelks, scallops, augers and olive shells. The tidal flats are especially valuable because you'll be able to find sand dollars there!
Being so close to our master-planned community, the town of Southport offers a suitable home base for shelling in Southeastern North Carolina. You can easily travel to outlying Brunswick County islands, such as Bald Head Island, Zeke's Island Reserve, Oak Island, Caswell Beach and Fort Fisher. These southernmost points provide commendable shelling experiences. Aspiring shell hunters will often have an uncrowded area to work with, leading to many great finds.
Here's just a few further descriptions of the shells you can find in our local area:
Scotch Bonnet – This gorgeous shell features a conical shape, with a ridged body often covered with brown speckles. Scotch Bonnets, especially intact ones, are an incredibly rare find. They are also well-known for being the state shell of North Carolina.
Whelks – Often mistaken for conch shells, whelks are noted for being striking in appearance. They have conical shapes with spiral tops, and often have wide openings. Depending on the species, some shells have spikes or ridges towards the top. The three most common varieties of whelks include lightning whelks, knobbed whelks and channel whelks. You can often find these beauties washed ashore after a storm.
Coquinas – Easily one of the most colorful shells that you can find, they appear brown, yellow, violet and blue. Coquinas will wash in with the tide, and you can often spot live species burrowing in the sand as waves recede from the shore.
There's always plenty to do when you live in a prime coastal location like Brunswick Forest. During summer months, it's almost a given that people will make at least one trip to the beach for a day of surf and sun. For beachgoers who are looking for an activity that's both active and fun, nothing beats the classic thrill of hunting for beautiful shells that are buried beneath the sugar white sands.