Are You Going to Go Our Way? Broker Referral Forms
January 31, 2020
ISWebmaster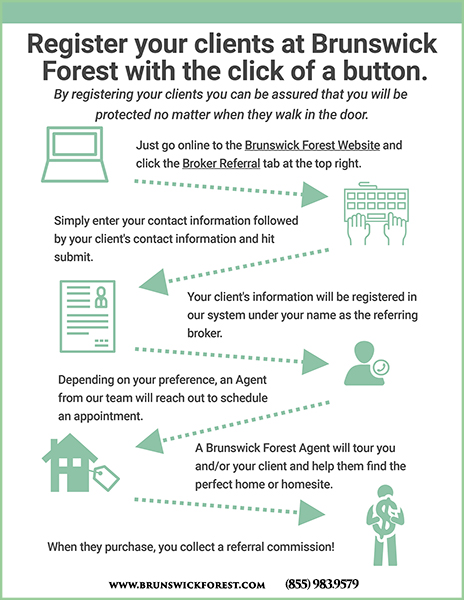 Down South, it's all about being part of one big family! Strong bonds are created every day here at Brunswick Forest, where residents from all over the country unite under the common banner of wanting an optimal lifestyle. The team at Brunswick Forest always does their best to treat every resident with courtesy and consideration. This extends to brokers as well, because we want to make your role easier by providing you with the tools you need to satisfy your client. We want to be the community you look forward to engaging with.
Are you a broker who has a client interested in visiting our master-planned community? Would they like to tour our neighborhoods, or are they interested in purchasing a home from one of our 12 preferred building partners? If your answer is yes to any of these, then we've got you covered. You may not know about the advantage of using our Broker Referral Form located right on our website at brunswickforest.com. Here, our broker friends can refer clients that they feel would be a great match for our communal family! This referral form is Brunswick Forest's way of saying: "Hey, we want to work even closer together with you. Let's help find someone's dream lifestyle together."
Since brokers are considered a big part of our family as well, this form is just another way to give you an extra benefit for bringing your client to our community. Brokers who close a certain number of sales in our community will be awarded a co-op commission benefit! Brokers have the potential of earning up to $5,000 in bonuses!
To make things even easier, brokers can enter a referral in one of three ways. These include:
Register your client through the form on our website, or with a Brunswick Forest sales executive
Accompany your client to the welcome center at Brunswick Forest on their first visit and register your client at that time
The client can also give a Brunswick Forest agent their realtor or broker's name. It can be entered on the Visitor Registration Form that is completed during the client's first visit to Brunswick Forest
Few master-planned communities appreciate their broker relationships quite like Brunswick Forest does. Our success is based on our partnership with the local broker community. We love nothing more than to make our community a place you'd love to do business with, time after time. Have more questions regarding how you can help find their coastal paradise? Contact our team at: 855.983.9579