A True Team Player: Interview with Sales Operations Manager Meghan Owen
October 21, 2021
ISWebmaster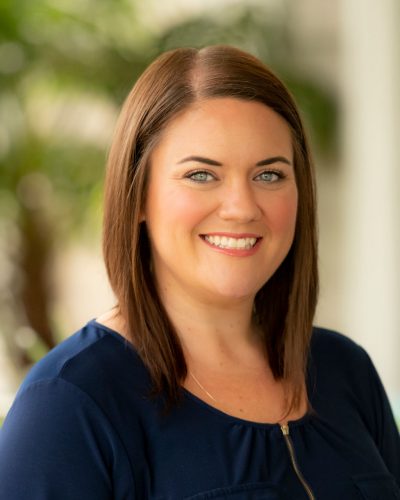 A North Carolina native, when our sales operations manager Meghan Owen tells others that she loves the local area, you can tell she means it. Far from a stranger when it comes to teamwork, she has made her mark as a sales operations manager and overseer for our live chat service. As one of the first points of contact for prospective homeowners, Meghan is a valuable part of our real estate team here at Brunswick Forest!
Originally from a small town in Eastern North Carolina called Farmville, Meghan made her way to the Wilmington area for educational purposes. "I attended UNCW for both undergraduate and graduate school, and fell in love with Wilmington," she says. Ever since she stepped foot in Seahawk country, Meghan had been looking for something completely new from the life she used to know. You see, Meghan had a successful teaching career for six years before deciding to come back to Wilmington. When she saw what our area had to offer, Meghan felt her connection went deeper than having nice beaches nearby. "I've said since I stepped foot on the UNCW campus as an 18-year-old that Wilmington has always felt like my place, and where I belong." Meghan has always felt like the greater areas of Wilmington and Leland has felt like a bigger version of her hometown. She likes the fact that these towns keep expanding and have a dedicated place for the arts.
As a former teacher, Meghan is used to being part of a well-coordinated team. Perhaps therefore she has integrated so seamlessly with the rest of our real estate team. "I was looking for something completely new, but a field that could utilize my strengths and capabilities. I also wanted to join an environment that felt like a team that would offer me professional growth and opportunities." Meghan originally joined Brunswick Forest as a Front Desk Coordinator, and over the years has held many different positions including Front Desk Manager, Call Center Manager, and now Sales Operations Manager. This includes managing our extensive sales database and valued live chat service. In short, Meghan helps our office run smoothly and efficiently!
Her favorite part about what she does is knowing that her actions are part of an organization that helps people's dreams come true. "We welcome numerous families into Brunswick Forest every year. And for the past six years, my role in that has grown, but my pride in helping in whatever way I can has always been the same. It's an honor to contribute to that part of what we do," Meghan emphasizes.
"For the coming months, I'm looking forward to seeing continued growth in the neighborhood with the addition of The Peninsula at Cape Fear National and our new amenity, Reflections. It's always wonderful to welcome new families into the community," Meghan says. "Everyone has worked so hard to make this a truly successful year, and I couldn't be prouder to be a part of it."
If you're an aspiring homeowner looking to see if living at Brunswick Forest is the right move for you, Meghan has this advice to give, "I would encourage you to come and explore the community and its surrounding area. I've heard many of our agents say that it's all about finding the right fit. Until you've come down using our discovery tour and truly spent time at Brunswick Forest, immersed yourself in our community, talked with property owners, explored the amenities, and spent time in Leland and Wilmington, it's going to be hard to make an accurate decision. Trust in the knowledgeable agents to guide and assist you."
Brunswick Forest is thankful to have such an incredible person and asset to our fantastic team. If you ever have further questions for Meghan or our agents, contact us at 833-497-1001.