A Large Space for A Diverse Place: The Villages Town Center
February 25, 2021
ISWebmaster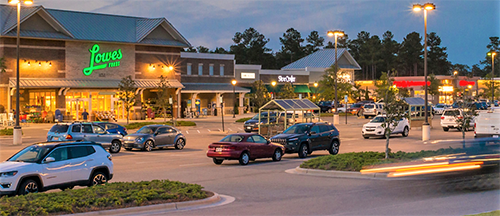 The Villages Town Center at Brunswick Forest has size and variety! Compared to other master-planned communities, our town center here provides a whopping 160 acres and over 500,000 square feet of useable space. That means more options, fewer headaches, and more convenience for residents!
The Villages Town Center is a unique community area that is minutes (single digits) from your front door. Better still, are all the options for shopping, medical and dining. 500,000 square feet of space is a lot to work with when you get down to it. And what we have done at Brunswick Forest is take the opportunity to create convenience with this space and have much more on the way this year.
Here are just some of the ways this space is being utilized:
Two massive state-of-the-art facilities from both EmergeOrtho and New Hanover Regional Medical Center dominate the landscape here, ensuring you have everything you need to keep yourself healthy. These two providers also have easy access to other satellite facilities in case different services are needed. If pharmaceutical prescriptions are ever needed, a full-size CVS Pharmacy is also inside The Villages.
Tasty options are available in the form of at least four major restaurants. This includes The Joyce, Shuckin' Shack Leland, Farmhouse Kitchen, and Pizzettas Pizzeria. So, that's Irish pub food, seafood, fresh breakfast and lunch options, and Italian food all in one area. Each of these locations has a great drink menu to choose from as well. And for those of you with an active morning routine, The Villages also has a Port City Java in which to serve you everything from mochas to blueberry scones.
Shopping and self-care are easy with Lowes Foods, Cherubini Orthodontics, BlueWave Dentistry, banking options with BB&T, financial planning via Berry Financial Services, and Austin Oral & Maxillofacial. If you have a dog or cat, Family Dog Naturals and Brunswick Forest Veterinary Hospital have all your needs covered!
Besides all of this, a lot is coming to The Villages this year, such as a Wendy's (Which just opened this week!), an assisted and independent living facility, a brewery, and even a building dedicated to the ice sport of Curling. All of this is sure to make the Villages even bigger than it already is, adding onto the variety and convenience that residents know and love.
The Villages Town Center is just one of the many ways Brunswick Forest provides a haven that you can call "home."