A Cove of Fine Homes: Egret Cove at Brunswick Forest
August 10, 2020
ISWebmaster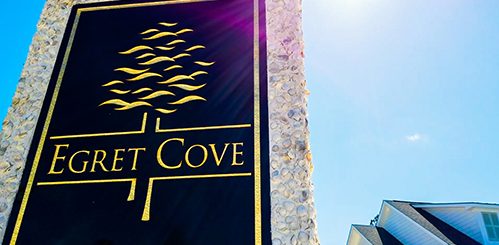 Brunswick Forest is more than just another master-planned community, it is its own collection of distinct neighborhoods, woven together to form a tapestry of fine Southern living. Egret Cove, one of the newest developments in Brunswick Forest, continues to be a standout for touring, future homebuyers.
Egret Cove started its development in the beginning half of 2019 and has since grown in leaps and bounds. This neighborhood brings all the comforts of the classic cottage architecture within reach for aspiring homeowners, while retaining all the modern elements that are expected of today's building standards. Egret Cove has been the center of attention from recent tours during Brunswick Forest's Coastal Showcase Weekend events. This neighborhood is also linked nearby to plenty of other amenities and central locations around Brunswick Forest. Regardless of what you are looking for in your dream home, you can almost be guaranteed to find it here. Here are some of the homes that are move-in ready.
Both Logan Homes and Kent homes are renowned home builders in the Southeast. They constantly impress their clients with their adaptable floorplans. Mudrooms, storage, open living spaces and screened-in porches are just some of the features that you can find in their models. Their newest completed homes in Egret Cove are no exception to this standard. The latest creations from Logan Homes includes the Capeside, the Shoal, and the Channel models, which are move-in ready. In addition to choosing to own one of these spectacular models, there are currently two that are available for touring and can be built on your lot. These are the Angler by Logan Homes and the Cooper's Bay by Kent Homes. Logan Homes and Kent Homes also have more models that are currently under construction.
Home sites in Egret Cove start in the 80's with home packages from high 300's, making the homes here a great value in coastal Carolina. Most beneficial of all is the low-maintenance landscaping. These sites are in high demand, so don't miss your chance to tour this stunning neighborhood.
Egret Cove is equally charming as it is versatile. Take a tour and see why this amazing neighborhood is becoming so popular. Do not forget to view Brunswick Forest's Homes to Tour Videos, or contact the real estate team for more information at: 855.983.9579