Wilmington, North Carolina: Quality of Life That Goes a Long Way
May 3, 2021
ISWebmaster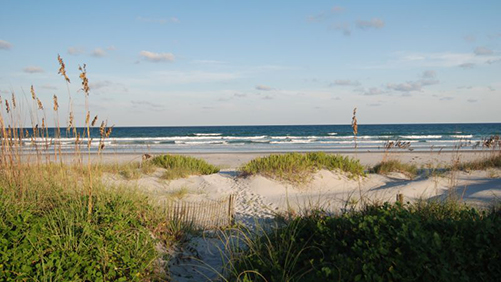 When it comes to retirement or relocation, you will often hear people talk about how they've improved their quality of life. Wilmington, North Carolina is a prime example of an area that can positively impact your life in many ways. The location here on the coast offers a plentiful and diverse natural landscape to include our white-sand beaches, convenient living and some of the best air quality in the entire nation.
Part of what we feel makes our master-planned community of Brunswick Forest so attractive is being close to one of the most desirable towns in the Southeast. There's no doubt that the allure of Wilmington, North Carolina has brought many prospective homeowners to Brunswick Forest.
Environment:
Okay, we know you might have seen this one coming already, but if there's one thing we're known for here, it's the natural beauty that surrounds us. From the beautiful sea green waves to groves of decade-old live oaks, Wilmington has no shortage of nature. Visitors will come from thousands of miles away just to experience our year-round mild weather and spend time in paradise.
A natural environment is great for anyone looking to walk, run, jog, bike, surf, fish, and any number of other physical activities. It's also great to just have a moment somewhere quiet, listen to nature's sounds, and center your mind for enjoying life. The greater Wilmington area offers an abundance of parks and green space in the area plus walking trails and dedicated bike paths dotted throughout the town. All of these for you to enjoy and benefit your mind and body. Speaking of health, did you know that Wilmington was just rated the fourth cleanest city in terms of air quality by the American Lung Association? It speaks highly on the living environment here and as a result, the quality of life.
A lot of the areas mentioned here are nearby to one another. That means no stress and more enjoyment for you. Here are just some of the hot spots that people love to frequent when deciding to visit our area:
Bald Head Island – Located at the mouth of the Cape Fear River, Bald Head Island is the perfect place to go on an outdoor adventure. Located just downriver from New Hanover County, you can easily grab a ferry ride in Southport, North Carolina, to reach this destination. For anyone willing to spend the day there, you can enjoy fishing, a spectacular and quiet beach, world-class golfing, quaint shops, restaurants, bike riding, and of course a trip to the oldest standing lighthouse in North Carolina, Old Baldy.
Fort Fisher – Located just past the town of Kure Beach, Fort Fisher was the site of one of the most climactic battles of the American Civil War. Here, Southern soldiers set up a barrier of earthen mounds, bunkers, and fences to combat Union forces offshore. Many of these fortifications can still be seen today. The historic center there provides fantastic tours of the area and even does live reenactments of the battles that took place so long ago. Fort Fisher is unique in that you can experience the Atlantic Ocean on one side, and the Cape Fear River on the other.
Southport – Just south of the Port of Wilmington (giving the town its name), Southport is an area that has boundless coastal charm. Walking along the quiet streets here will bring you back to an earlier time in the town's history, as there are a lot of historic buildings that line the riverfront. The town is also famous for being the last port of call before heading to Bald Head Island, as well as being home to some of the freshest seafood around. Many restaurants, like The Provision Company, really give you a sense of "Living the good life on the coast."
The greater Wilmington area has a boundless charm you're sure to fall in love with. The ocean provides entertainment in the form of seven nearby white-sand beaches. Wrightsville Beach, Oak Island, Carolina Beach, Kure Beach, Caswell Beach, Holden Beach, and Ocean Isle Beach are some of the finest on the East Coast. Each offers a variety of areas to go shelling, fly kites, play cornhole, walk the dog, and other fun activities. Downtown Wilmington itself is a true Southern gem, with historic homes, quiet shops, sweet treats, and places to eat.
Individually, all of these are reasons to love the Wilmington area. But together they create something special for anyone looking to make this area home.