Wilmington is Growing Larger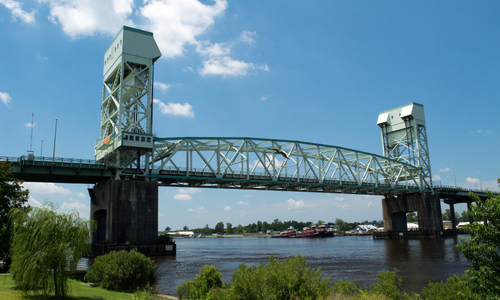 Exponential Growth
The greater Wilmington area is different than it was 20 years ago! Originally, New Hanover County and the surrounding beaches were seen as sleepy coastal towns. While still possessing the small-town feel, Wilmington is not so sleepy anymore. So many have fallen in love with this locale and made it their forever home, that the town has expanded to accommodate. Here are some wonderful ways that Wilmington is growing!
Wilmington and the outlying New Hanover/Brunswick County beaches have become a real destination hotspot. Each year this area seems to break new records. But a positive consequence of this is it's provided lots of opportunities for new businesses and local scenes to become prominent.
Live Oak Bank Pavilion Amphitheater
One of the easiest ways to see how big Wilmington has grown since its early days is the Live Oak Bank Pavilion located downtown. The greater Wilmington area has become a thriving location for music and concerts. Over time there's been an even greater demand for an amphitheater with outdoor space for thousands of people. Live Oak Bank Pavilion delivers enough space for a total of 7,200 spectators. As Wilmington is growing, even more well-known musical performers will make their way to our town. And Live Oak Bank Pavilion is a perfect symbol of that growth.
New Homes and Townhomes
Everywhere you look in Southeastern North Carolina, new communities are sprouting up seemingly overnight. As more people fall in love with the coast, there's a deep desire to settle down and live out a permanent vacation. New and upcoming homes and townhomes are an easy way to see how Wilmington is growing. This is not even limited to Wilmington itself, but the surrounding areas like Brunswick County. Brunswick Forest itself has seen a tremendous number of sales throughout 2021, with our agents being named fifth out of the top 50 real estate teams in Southeastern North Carolina. That trend has continued into this year, as more and more are looking to discover the coastal side of life. Our newest amenity, Reflections, as well as The Peninsula at Cape Fear National and a whole host of new upcoming developments at The Villages, are also a reflection of this. 
The Numbers Don't Lie
As of January 2022, greater Wilmington was named one of the most popular cities to move to in the entire country. That's an incredible point to make when you consider that the United States is home to thousands of planned communities. 59% of people have moved into Wilmington than other cities. This has affected everything in Wilmington with a positive outlook, from upward mobility jobs to new infrastructure being added in to make commuting simpler.
New Businesses Flourishing
With all this amazing growth in greater Wilmington, new businesses have been popping up all over town and beyond. From breweries like the upcoming Brunswick Beer and Cidery to downtown eateries like Savorez Latin American Restaurant, greater Wilmington has become an epicurean hotspot that's hard to match. New ideas and fresh perspectives are taking place and the population around the city continues to grow.
 Looking Forward to the Future
The team here at Brunswick Forest is excited with all the progress that has been happening around town, and we fully expect the growth to continue. Looking to travel down South and see what all the fuss is about? You can explore our area with Brunswick Forest's Coastal Discovery Tour, or contact us at 833-497-1001.