Wilmington Airport Expansion
December 15, 2021
ISWebmaster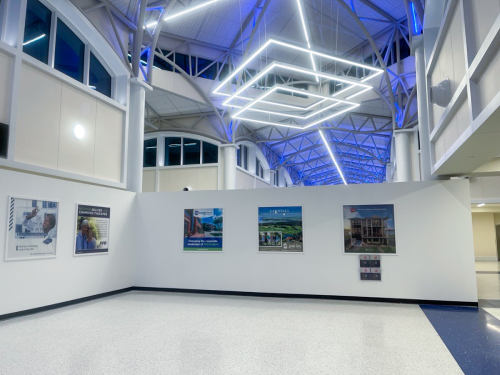 Get ready for take-off! Wilmington International Airport is about to be better than you've ever seen it before. Whether you're looking to be a new resident, or a long-established resident of Brunswick Forest, the expansion plans are exciting for sure. Soon, the number of destinations will increase, and more flights will be connecting to several exciting new destinations.
Convenience:
The fact that a major international airport is only a few minutes away from your home, is another great thing about living in or around Wilmington. Brunswick Forest residents can count on an easy time flying out, arriving home, and being able to welcome friends and family visiting with ILM nearby. (ILM is the airport's call sign.) It can be especially convenient during the holiday when you might want to travel a bit more.  With its expansion still underway, we will soon see the number of destinations increase.
From Grass to Tarmac:
If you're not looking to drive to Raleigh or Myrtle Beach, few airports allow for as many connections as ours does. And on top of that, it has a rich history! Originally named Bluethenthal Field in the 1920s, it was a simple grass landing strip for basic bi-planes. Wilmington International Airport has slowly evolved throughout the decades. During the 1940s, the simple grass airstrip slowly became something bigger to allow for supplies and military transports passing through the area during World War II. At this time, it covered 634 acres of land, and several civilian airlines were beginning to buy into the new field. A larger and more modern terminal building was added in 1950, and by the time 1990 rolled around most of what we know as "ILM" took shape.
What's Happening:
As with Wilmington International Airport's long history, its expansion plans are also extensive. If you've taken a recent flight through ILM, you've already seen the growth in the expansion project. Some of the new additions include:
An expanded parking area
An air cargo facility
Terminal expansion
More baggage screening options
A larger concourse atrium adding 78,000 square feet of space
A 100-room hotel
A new business park measuring 140 acres
More passenger bridges
More destinations
Ongoing Expansion:
As we've said before, this expansion has been ongoing and is set to complete at the end of 2022! When it's finished, Wilmington International Airport will be one of the best hubs to fly out of in the Southeast. Destinations and direct flights are already offered to cities like Chicago, Charlotte, New York City, Philadelphia, and Atlanta. One of the most anticipated new destinations is a direct flight between Wilmington and Newark, New Jersey. Having a direct link to our location will prove to be very helpful to those living up North, making touring communities like Brunswick Forest even easier. The goal is also to keep the same homegrown vibe that's currently in place at the airport while being able to serve more passengers.
Better For You. Better For Wilmington:
With the expansion, traveling through Wilmington International Airport will have even more places to shop, relax, connect wirelessly, and dine during their layovers. It will also help our area become a haven for traveling businesspeople and those looking to do trade. As a result, Wilmington can welcome more aspiring transplants, visitors, and tourists that will boost the local economy. It's a win-win situation and one that our team is looking forward to in the new year. What was started over 100 years ago has now become something that New Hanover County is proud of.