The Winds of Progress: Big Expansion at ILM
September 13, 2021
ISWebmaster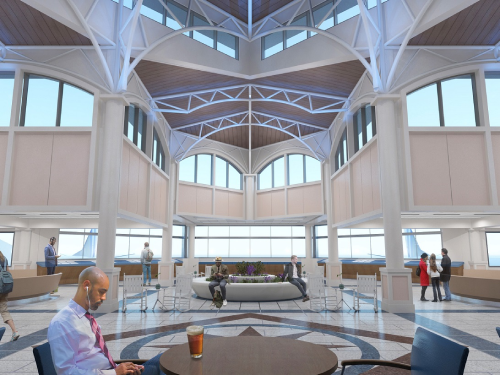 Up, up, and away! Progress is something that continues, where small changes over time lead to a larger result. In this case, Wilmington International Airport (ILM) has been one of the largest expansion projects in New Hanover County. Started in 2019, ILM airport is slowly becoming a national-grade travel hub that can accommodate more passengers in a well-equipped environment. And a lot of progress has been made already!
First constructed back in 1927 as a military airfield, Wilmington's international airport has quickly become one of the most passed-through areas for air travelers in the Southeast. The recent decades have seen service open to major areas like Chicago and New York City.
The expansion process for ILM is taking place in three major phases and has taken several years to fully complete. The first phase will focus on elements that travelers can't openly see, which is mainly more screening and bag options. This new delivery system will be safer and much more efficient, which will be needed once ILM begins accommodating even more passengers. Phase two focuses on a complete overhaul of the airline ticket office locations, ticket counter kiosks, and the airline ticket lobby. Allowing for more self-check-ins and a higher amount of foot traffic.
As of April 2021, the atrium of ILM's brand new concourse building has taken form. The basic shape of the new structure has been completed, and it's expected to add about 78,000 additional square feet to the airport. That's a whole lot of space to look forward to, once air travel becomes more commonplace again! Once the full terminal building is completed in December of 2022, ILM will measure a total of 173,000 square feet of space. According to the directors of the airport, they want the building to keep the same hometown feel that has warmly greeted many visitors to our area for so long. You can also look forward to more passenger bridges, four new gates, additional seating, expanded concessions, and expanded TSA checkpoints for increased safety.
Other ILM expansions that are looking to take shape include a business park, which will be a 140-acre complex on airport grounds to act as an area of financial benefit for traveling workers. Amongst the proposed concept includes a 100-room hotel, perfect for overnight layovers. To accommodate all this new traffic, ILM is also looking to increase its parking area significantly.
What does this mean for visitors and residents of nearby communities like Brunswick Forest? It means you can look forward to even more convenience, and new destinations becoming easier to travel to. More visitors to Wilmington mean increased revenue for other local towns like Belville and Leland, and more opportunities for aspiring homeowners to join our communal family. Regardless of which way you look at it, the current additions that have been constructed so far at ILM have us excited for when travel fully opens safely again.