WHY YOGA?
February 27, 2015
Brunswick Forest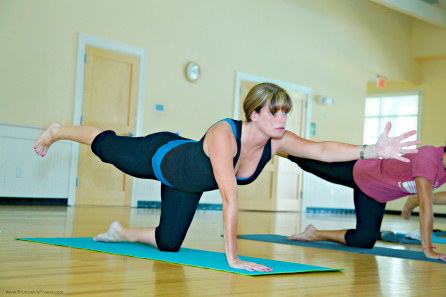 At Brunswick Forest, there are plenty of ways to stay fit and active! We offer a wide variety of classes at our Fitness and Wellness Center, including regular yoga classes.
Yoga is an ancient practice that began as a way to teach meditation, but, in present day, yoga is used for exercise as much as for relaxation and reflection. Yoga has also been shown to have a number of benefits including stress-reduction, improved flexibility and weight loss.
YOGA FOR STRESS REDUCTION
Yoga's emphasis on breath and quiet reflection does wonders for reducing anxiety and stress. A regular yoga practice can significantly impact a person's outlook and mood and is the perfect accompaniment to today's fast-paced, high-stress lifestyle.
YOGA FOR FLEXIBILITY
Perhaps more than any other type of exercise, yoga is wonderful for increasing flexibility. Yoga engages all major muscle groups and helps to lengthen ligaments and tendons.
YOGA FOR WEIGHT LOSS
Practicing yoga several times a week is a good way to embark on a weight-loss plan. Yoga not only provides a steady cardiovascular workout, but also helps to increase muscle mass, which will help your body burn more calories.
Try a class at Brunswick Forest Today!
888.371.2434
www.BrunswickForest.com