Why the Villages is Important
August 26, 2022
ISWebmaster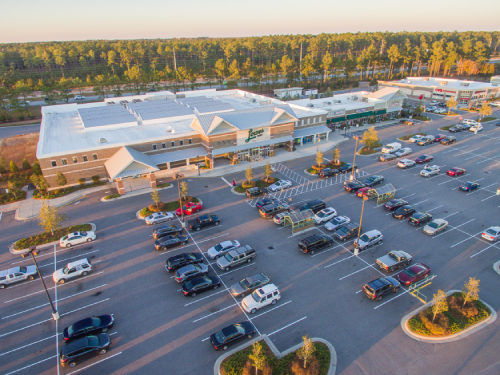 One of a Kind
Few master-planned communities in the Southeast have access to a full-sized town center as Brunswick Forest does! The convenience of having several shops, a grocery store, a pharmacy, two medical centers, and restaurants is an advantage that can't be emphasized enough. It's an amenity that has helped make Brunswick Forest a defining master-planned community in greater Wilmington. Here are the top five reasons why the Villages Town Center in Brunswick Forest is so important to residents.
Proximity to Brunswick Forest Neighborhoods
You can't get much more convenient than having all your necessities in one place and right down the street from your home! While some planned communities might have grocery stores, restaurants, and other necessities located in a nearby town, Brunswick Forest makes it so our residents rarely need to leave our front entrance to get what they need. That eliminates the stress of residents having to decide the shortest routes to get groceries or having to drive across town for a doctor's appointment. When residents have peace of mind knowing this, their quality of life increases even further.
Wide Variety of Restaurants
In the mood for some homemade Italian food and scrumptious pizzas at Pizzetta's Pizzeria? How about fresh seafood and cocktails from Shuckin' Shack Leland? Or perhaps you've just finished your morning jog and are looking for a farm-fresh breakfast at Farmhouse Kitchen? The Villages Town Center is important to residents because it has all these options and more. If you're looking for fresh ingredients and variety, you will find no shortage of restaurants to dine at here. There are great places to choose from regardless of if you want to treat yourself or visiting company to something special.
Important Medical Facilities
Peace of mind is achieved when you know the rest of your most important needs are handled. The Villages Town Center at Brunswick Forest is all about setting up our residents for a peaceful coastal lifestyle without any excess worry. Few items are more important in living a good life than your physical health. The Villages possesses a 40,000-square-foot medical center by Novant Health, and a state-of-the-art orthopedic center led by EmergeOrtho. Both are household names for the best medical care available in the Southeast. Whether you have a test at the lab or need new medication prescribed for you over at the nearby CVS Pharmacy, the Villages Town Center has you covered.
Helping Local Businesses Grow
While there are many chain businesses throughout the Villages Town Center, some establishments are owned by your friends and neighbors. The Joyce is an independently owned pub that blends good food with a warm atmosphere. Family Dog Naturals is owned by local couple Betsy and David Head, who desire nothing more than to provide neighborhood dogs and family pets with the best resources possible. The great thing about our town center is that it helps the local economy by growing local businesses!
One of the Only Town Centers of its Kind for a Master Planned Community in Brunswick County
Simply put, the Villages Town Center is important for residents because there are few like it in the immediate area. Some communities might be located close to outside shopping centers and the like, but not many will have one right inside their gates. This makes Brunswick Forest highly valuable to aspiring homeowners looking to maximize their quality of life through convenience.
Our Oasis of Convenience
The Villages Town Center is part of Brunswick Forest's overarching mission to provide everything our residents need. Regardless of if it's a meal, an appointment, or a particular pair of shoes, you can bet the Villages has exactly what you're looking for in your very own backyard.