Walk for Fitness: Tips for Sticking to an Active Routine
January 27, 2021
ISWebmaster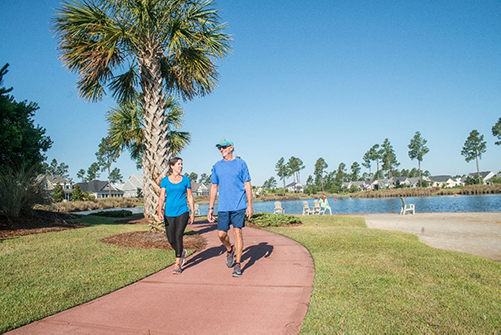 Getting fit in the New Year is hardly a new concept. No matter how popular this resolution is, it never gets any easier and some people find it hard to stick to their goals. To make sure you do not fall into this category, you need to set realistic goals and your routine should be easy to execute.
Not only is walking a covid-friendly activity, but it is also a great way to improve your health, increase your cardiovascular fitness and reduce stress. The best part about an exercise routine of walking is that it's free, it requires little to no equipment, and at Brunswick Forest, there are dozens of different walking trails so you will never get bored. Here are few tips to help your walking routine keep you active and improve your health.
Get a good pair of shoes: Although you can walk in just about anything, most people walk better with flat, flexible athletic shoes. Make sure they fit properly, and they are comfortable. The Shoe Center in the Villages Town Center is a great place to look for walking shoes and it's just minutes from your door.
Grab a walking partner: Your partner can be your spouse, a neighbor or even your four-legged furry friend. It is also helpful to have a partner who will be there to encourage you and hold you accountable to follow through with your plan.
Create a walking plan: Write down which days you will walk and how long or how far you want to walk. If you are a beginner, start with small goals and build up to a long walk.
Switch it up and feel the burn: Varying your pace will help you burn calories. For example: Walk at an easy pace for 10 minutes then walk briskly for 1 minute, then back to an easy pace for two minutes then briskly for 2 minutes. If you walk for 45 minutes or more at a brisk pace your body will begin burning fat.
Have fun with it: There are dozens of walking tours in and around Wilmington for you to enjoy. Taking a guided ghost tour, a walking history tour of downtown, or even a self-guided tour through the arboretum can be a fun way to switch up your normal walking routine. There are also dozens of county and city walking trails you can explore. Did you there is even a Walking Scavenger Hunt through Brunswick Forest? Read our Scavenger Hunt Blog for details.
Exercising can be fun and do not forget, walking is real exercise. It can improve your mood and it is good for a variety of health conditions including diabetes and arthritis and it is recommended to prevent many other health problems too. Brunswick Forest is filled with nearly 100 miles of walking and biking trails for you to explore.  What are you waiting for? Grab a buddy and get out there and walk!