Explore, Learn, and Get Some Exercise with a Modern Scavenger Hunt in Wilmington
January 25, 2021
ISWebmaster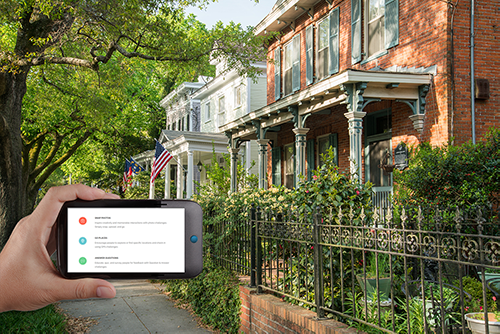 At one time or another, chances are you have embarked on a scavenger hunt of some sort.  Did you know that scavenger hunts evolved from ancient folk games?  It is true.  The hunt became popular in the modern culture around 1930 when American Gossip Columnist and party hostess extraordinaire, Elsa Maxwell, introduced a series of scavenger hunts at her famed parties.  Maxwell hosted society parties in Paris, New York, Cannes, Venice, and London.  The hunts were so popular among society's elite that it was even satirized in the 1936 film, My Man Godfrey.
Today our Scavenger Hunts have taken a tech boost and just about every city in the USA has an app that can be downloaded for a small fee.  Scavenger Hunts are a great outdoor, covid-friendly activity you can play with your friends and family or even do as a team-building activity with your co-workers.
Our nearby city of Wilmington has several Scavenger Hunts you can choose from that will take you around the historic downtown area.  Here are just a few of the Hunts offered in the Port City.
City Scavenger Hunts by Operation City Quest. Cost: $10 per adult
Using your smartphone you will be given a list of challenges and riddles to solve which will take you around the city.  The Hunt lasts about 2 hours and is family-friendly.
Crazy Dash Walking Adventure. Cost: $10 per adult
This one is sure to get your feet moving.  Using your smartphone you'll be given a starting location.  Once you arrive at the location, you will send a text to check-in and get to your next stop.  Along the way, you will receive challenges, perform tasks, and answer questions about the city.  The hunt takes about 2 hours.
Survival Challenge by Zombie Scavengers of North Carolina. Cost: $20 per team
Grab that smartphone and you and your team (you can have up to 10 on a team) will be tasked with scavenging the city for food, supplies, transportation, and shelter.  The more you find the more points you collect.  The hunt lasts for about an hour and is fun for the whole family.
Uncover the Port City's Past with Scavengerhunt.com Cost: 12.99 per ticket
Twenty plus challenges. Two hours. One epic adventure. Your team will solve puzzles, complete challenges, and explore historic landmarks from the American Revolution to WWII. The Hunt lasts about 2 hours and you will walk about 1.8 miles.
Brunswick Forest even has their own Scavenger Hunt.  Just download the app GooseChase on your smartphone and type in the game code: DDZ3J8.  The Scavenger Hunt will be live until March 9th, 2021. Photos from the Scavenger Hunt can be found using the #Brunswickforestscavengerhunt so you can see the fun. Happy hunting!