Villages at Brunswick Forest Update
April 17, 2020
ISWebmaster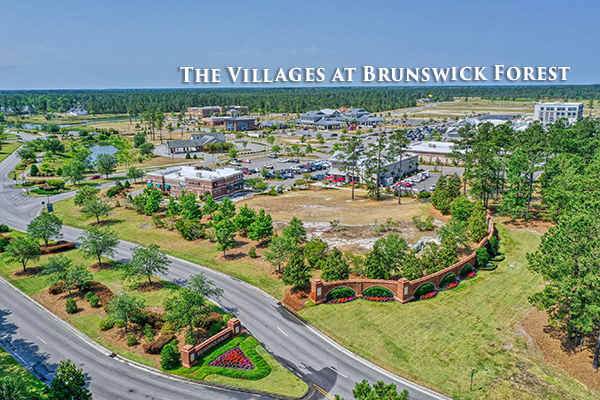 The Villages Town Center continues to serve as an accessible haven for the residents at Brunswick Forest. It's a 160-acre oasis that allows people to have the services they need daily without the stress of traveling far from home. During such an uncertain time where health and safety is of most importance, the businesses inside the Villages are doing their part to help make things easier for the people around them.
Restaurants, such as Farmhouse Kitchen and Pizzettas Pizzeria are open for delivery and curbside pickup to-go orders. Between the farm fresh fare options at Farmhouse Kitchen and Pizzetta's homemade pies, residents can take solace in having great meal options without cooking. If your pantry does need to be restocked, the Lowes Foods at the Villages Town Center is putting additional time into keeping its premises clean. They're offering curbside pickup for groceries, and even allotted time for a special senior shoppers' hour. This hour is for shoppers who might be the highest risk and extend from 7am to 8am Tuesday – Wednesday.
Looking to make sure your four-legged furry companion is also well-provided for during this time? The folks at Family Dog Naturals will help give them the treats they crave via curbside or delivery services. And if your dog, cat or other pets need medical care, Brunswick Forest Veterinary Hospital is also open for care; they may have closed their lobby but treats and health reports will be given with a curbside service.
CVS Pharmacy has hired on extra staff to support their customers, offering their normal drive-through service as well as delivery too! You won't have to feel any anxiety over getting the prescriptions you need to stay healthy. Blue Wave Dentistry is working extra to reschedule routine visits and taking emergency appointments. Our friends at Coastal Integrative Health will continue to treat patients under limited hours, and making sure to use gloves, masks and all the proper equipment to keep you safe.
Your financial health doesn't have to suffer either, because BB&T is still providing some teller services with their drive-through. The Shoe Center is offering online orders and even a break to your wallet during this time with free shipping on orders over $75 dollars. Coastal Dance Academy is still holding classes through virtual means, ensuring that their students will not miss out on their lessons. And when push comes to shove and you need a little liquid recharge, Port City Java will still be open for drive through orders!
The Villages offers convenience for Brunswick Forest residents in many ways. What matters most is knowing you have options close to home when you need them most! And that's peace of mind that you can't put a price on! You can read more about what businesses are open over in Brunswick Forest's April Newsletter.