Upcoming Fall Sales Events
August 31, 2021
ISWebmaster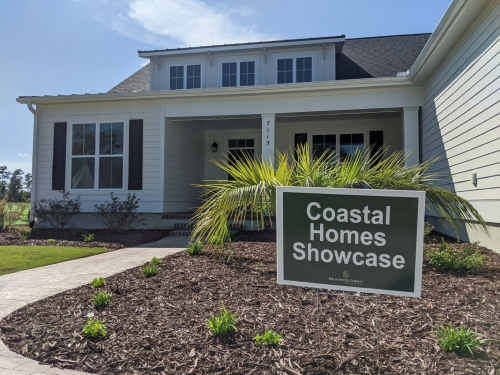 The heat of summer is beginning to die down, but Brunswick Forest is an area that continues to offer a great time. Regardless of what time of year it is, we're always ready to welcome new members to our family here in Southeastern North Carolina. With even more homes being developed in our community, it's a great time to come down and explore our community during a time of year when the temperatures are milder. The team has some great Coastal Home Showcase events planned for September and October, so get ready for a whole lot of Autumn fun!
Brunswick Forest will be hosting two upcoming events this fall, starting in September. The first weekend will run from September 9th to the 12th, and the following month there will be another Coastal Home Showcase from October 7th through the 10th. The advantage is that if you're not able to make one event, you can always RVSP for the other!
Our Coastal Home Showcase Weekends are always a good time where aspiring residents can look for a dream home, and mingle with builders, sales agents, and current residents. They're fantastic opportunities to plan, learn more about the kind of life you want, and swap stories with like-minded individuals. While it's true that visitors to Brunswick Forest can come any time of year, and not just on weekends, Coastal Home Showcase events provide you with a unique resident-eye perspective of what it's like to be a part of our family.
Each weekend promises to be jam-packed with lots of fun activities and opportunities to browse our neighborhoods and see if we have a dream home that's right for you. There will be many homes and floorplans available for self-guided tours. Agents will of course be on hand to answer any questions you might have. Just like our past home shows, there will be a set schedule for the fall as well. Activities include:
A Welcome Reception
Catered Lunches
Wine Tasting
Live Musical Performances
Meet Our Builders
Championship Golfing for Two
River Cruise on the Cape Fear River
Tour Model Homes
Horse Drawn Carriage Rides
Resident Meet and Greet
Explore the Surrounding Areas
Such variety allows you to pick and choose what events to attend, giving visitors the power to experience coastal Carolina the way they want to. Perhaps you want to take a bike ride throughout Brunswick Forest using our network of dedicated pathways, or you might want to explore more of downtown Wilmington. You might decide to take some time to visit one of our seven nearby beaches for fun in the sun or take a trip to one of the design centers in The Village Town Center and discuss finishing features to your home. Both events are certain to be time well spent, especially when you get to connect with actual resident ambassadors from Brunswick Forest. What better way to hear if our community is right for you, than from other residents? Above all else, we want you to feel like you're being welcomed to a place that feels like home.
Our team can't wait to meet you this fall! So, be sure to reserve your spot while you still can. Contact us if you have any questions at 833-497-1001. And remember, you can also visit Brunswick Forest and take your own tour anytime during the year, including weekdays. Hope to see you there!