Turn the Page on a Coastal Lifestyle: The Community Album for Brunswick Forest!
May 1, 2020
ISWebmaster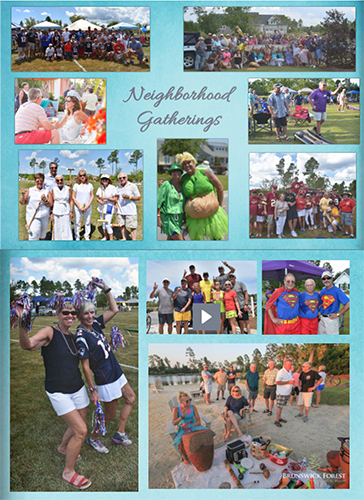 People often use the saying that "a picture is worth a thousand words." If a picture is worth that many words, then imagine what an entire album says about the future home you have been dreaming of. With Brunswick Forest's digital Community Album, learning about what a coastal lifestyle could do for you is just a click away.
There are several sections of the Community Album that focus on Brunswick Forest's pristine location just minutes from historic downtown Wilmington. It also focuses on the several white sand beaches and other charming Southern locales nearby. Past neighborhood gatherings in areas like Annsdale Park inside Brunswick Forest are documented in an easy to read fashion, just like a giant picture book. You'll quickly get the message of what it means to be Coastal By Nature®. From pickleball games to tailgating parties, the Community Album will make you want to be part of the action.
All of Brunswick Forest's luxury amenities are also clearly illustrated, highlighting how all demographics young and old never have to go far from their home. From miles of walking and biking trails to championship golf, you'll want to learn all about how you can integrate these amenities into your new life. Social activities, like the dozens of resident-sponsored clubs, are also covered in the Community Album. If you are interested in poker, line dancing, writing or any number of other activities, the Brunswick Forest team is sure that you'll find something to your liking here.
What makes the Community Album so useful, is that you can quickly determine if Brunswick Forest is where you want to be, and you can do so from the convenience of your own home. We believe that a pressure-free and informative experience is what matters most to ensure aspiring homeowners feel welcome before they even set foot in Brunswick Forest. The Community Album is a prime example of this philosophy. If you need further convincing, check out the testimonials from some of our current residents. Many of these personal stories highlight how Brunswick Forest has helped not only give these people a home, but a communal family that has become a big cornerstone of their lives.
In time, will your story be the next one that Brunswick Forest shares in their Community Album? Contact Brunswick Forest at 855.983.9579.