TREAT YOURSELF BRUNSWICK FOREST STYLE
July 3, 2013
Brunswick Forest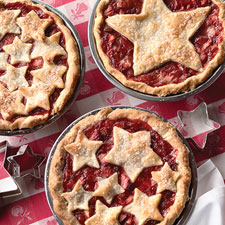 BRUNSWICK FOREST'S FAVORITE 4TH OF JULY DISHES
The 4th of July holiday means friends, family, fireworks and great food! Cookout essentials, delicious and festive drinks and best of all decadent desserts! Dig into some of our favorite 4th of July recipes here or indulge in The Kerry Family of Brunswick Forest's 4th of July dessert tradition…Strawberry Rhubarb Pie! We wish you all a safe and delicious holiday!
The Kerry Family's favorite 4th of July Pie!
Strawberry Rhubarb Pie
Ingredients
•1 recipe Pie Crust
•3 1/2 cups chopped rhubarb
•3 1/2 cups sliced strawberries
•1 tablespoon lemon juice
•1/2 cup white sugar
•1/4 cup brown sugar
•1/4 cup tapioca flour
•pinch of salt
•2 tablespoons unsalted butter cut into small pieces
•heavy cream for brushing on top of crust
•raw sugar for sprinkling
Instructions
1.Preheat oven to 400 degrees. On a well-floured counter, roll half of pie dough into a 12-inch circle and transfer to a 9-inch pie plate.
2.In a large bowl, combine the berries, rhubarb, sugars, lemon juice, salt and tapioca flour. Pour the filling into the bottom crust. Dot with butter pieces. Roll out the top crust into a 12 inch circle, and either proceed with a lattice top, or a simple double crust. Seal the edges and crimp decoratively as desired. Brush the crust with the heavy cream and sprinkle with raw sugar.
3.Bake for 20 minutes at 400 and then reduce temp to 350 for another 25 minutes or until the crust is golden and the filling is bubbly.
4.Let pie cool for several hours before cutting, the filling will only thicken as it cools.
Recipe by: http://www.the-baker-chick.com/2013/05/28/classic-strawberry-rhubarb-pie/