'Tis the Season for Giving
November 29, 2021
ISWebmaster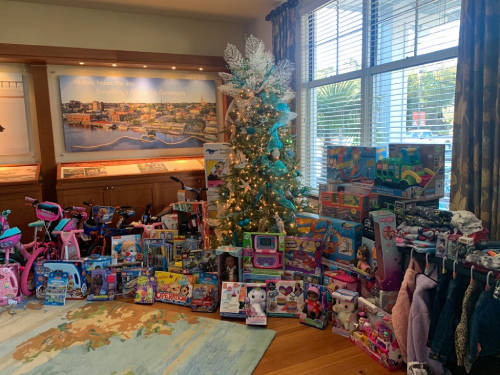 Brunswick Forest is an enclave of residents that love to give back to the community at large. Being that this is the season for giving to those less fortunate, Brunswick Forest is ready to help where needed! From Toys for Tots to Brunswick Family Assistance, our residents love to make a difference for others during the holidays and have fun doing so!
Why We Donate
The part that makes a community special are those that live there, and how they look after one another. Brunswick Forest knows that in a tightly knit area like Southeastern North Carolina, a little good goes a long way. And holiday charities are a perfect way to help someone out during this special time of year. We've had a long-standing tradition of giving back to several charities that mean the world to us, and this year that tradition has proudly continued.
Our Charities
Toys for Tots is a tenured charitable tradition, first started in 1947 by Marine Core Major Bill Hendricks. At the time, Major Hendricks was surprised that there were no charities that donated toys during the holidays to children in need. His wife suggested that he start his own, and the rest is history. To this day, the Brunswick Forest team and the residents who live here have always done their best to drop off a toy or two to make a child's dream come true on Christmas morning. Plenty of businesses all around the greater Wilmington area will participate in Toys for Tots every year. Examples that are close to home include Josh London of State Farm Insurance right here in The Villages Town Center, who is known for having a donation box outside of his office. Brunswick Forest also has a donation box of its own here in our Welcome Center.
By far the biggest event that's known throughout Brunswick Forest is the toy drive run by HOGS in The Forest, a resident-sponsored club made up of Harley Davidson owners. Just about every year for the holidays, residents will line up with their amazing machines and ride throughout Brunswick Forest. Not only do they stir up incredible amounts of holiday cheer wherever they go, but they spend a lot of time beforehand going around and collecting toy donations from everyone. It's an incredible sight that reminds us of how amazing our residents are.
Brunswick Family Assistance is the other major charity that Brunswick Forest always supports. This non-profit organization focuses on struggling families in the Brunswick County area and has been doing so since 1981. Anything that families need help with, such as food, clothing and toys, Brunswick Family Assistance works hard to get them what they need. A family with children should not be without the basics any time of the year, and especially not the holidays! That's why Brunswick Forest has a donation box over at our Welcome Center. Our agents also love to go the extra mile for our community families. In previous years, the Brunswick Forest team buys a lot of bikes for children in need, so that they have something special to open on Christmas morning. We are happy to continue that tradition this year.
It's one thing to receive gifts, but when you open your heart to give to others who need, you find the true spirit of the holidays. It's a tradition that resonates with our residents deeply, and one that we encourage you to take part in this December. Don't forget, Brunswick Family Assistance ends their holiday drive today December 1st, while Toys for Tots donations end December 10th! So, act fast if you want to get your donations in. You can also donate food to Brunswick Family Assistance year-round.