A Masters Delicacy – With Chef Scott
April 17, 2019
ISWebmaster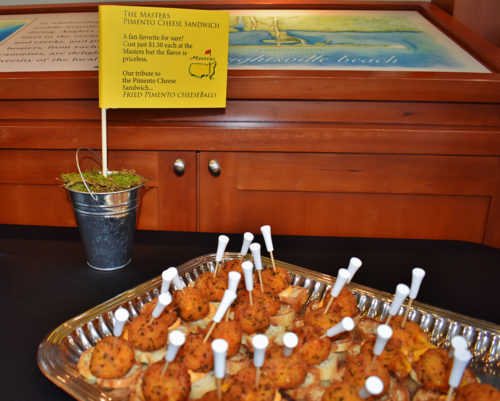 Chef Scott Euvrard, head chef of The Forest Restaurant at Cape Fear National, is known for offering exquisite meals in an elegant environment. Open seven days a week it's the perfect place to dine and entertain at Brunswick Forest. Chef Scott takes time to share his latest recipe ideas inspired by the biggest golf event of the month, The Masters Tournament. Tee up for some Golf Gastronomy and learn about the traditional cuisine of The Masters.
The Masters Tournament is the most well-renowned of all the championship golf tournaments, and just about every golf enthusiast imagines their favorite golfer receiving their Green Jacket. There's a staple tradition when it comes to food during The Masters; concession stands tantalize guests with their throwback low prices, the famous Augusta egg salad sandwich and pimento cheese sandwich. Seeing these sandwiches made fresh on site is just as much of an attraction to spectators as seeing Tiger Woods teeing off. Pimento cheese has been an especially rich part of The Masters ever since the late 1940s. The pimento cheese sandwich satisfies the taste buds as a quick and inexpensive Southern treat that's packed with protein.
Even if you're unable to attend the Masters, Chef Scott has prepared a mouthwatering recipe that will make you feel like you're there year after year.
The ingredients you will need are:
48 oz of New York extra sharp cheddar cheese
11 and a half TBSP of Lea & Perrin Worcestershire sauce
¾ TBSP of Tabasco sauce
3 ea 4 oz jars of diced pimentos, undrained
1 TBSP of sugar
3 ea 4 oz jars of diced pimentos, drained
3 cups of Hellman's Mayo
-First, combine the cheese, Worcestershire sauce, Tabasco sauce, undrained pimentos and sugar into a large bowl; begin stirring together until well-mixed.
-Stir in the drained pimentos.
-Add the mayonnaise and mix well.
-Cover the mix and let it chill for 24 hours. Makes 9 cups.
For the fried pimento cheese ball recipe you would make this mixture and then make individual balls and roll them in flour then egg then bread crumbs and fry them until golden brown.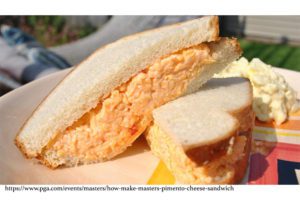 Congratulations to the 2019 Masters Champion, Tiger Woods!
Enjoy!