The Importance of Active Communities
August 23, 2022
ISWebmaster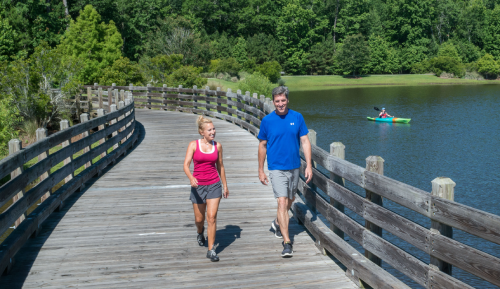 Staying Active Leads to a Good Life
While relaxing, Southeastern North Carolina is also prime real estate for getting outside and making the most of each day. The surrounding natural environments offer a superior playground for those looking to bike, jog, play pickleball, tennis, or any number of various activities. Active lifestyle communities, like Brunswick Forest, are important because they foster a dynamic and independent experience.
Plenty to do Every Day in Coastal Carolina
It comes as no surprise that thousands of aspiring homeowners move down in droves every year to the greater Wilmington area because it's idyllic and relaxing. With miles of sugar-white beaches, sparkling aquamarine waves, year-round mild temperatures, and a laid-back lifestyle, this area becomes very attractive to those looking to make their permanent vacation. But there are plenty of health benefits to be had in living an active lifestyle as well. When a community goes above and beyond to cater to the passions of its residents, the general quality of life increases for everyone involved.
Here are some reasons why active lifestyle communities are important.
Private Accommodations
One of the greatest advantages of an active lifestyle community is the ability to have your needs met through homes that support your desired lifestyle. Most often this is seen through offering a variety of floor plans and home models. Each one is typically equipped with features like full kitchens, dining rooms, master bedrooms, large closets, and full-sized bathrooms. Open floor plans are another way this is easily illustrated because it gives active lifestyle residents the chance to host family or entertain guests. An active style of living allows a resident to fill their calendar with plenty of fun and have the confidence of possessing a home that can keep pace accordingly.
Great Environments for Making New Friends
Another great thing about living in a community that supports an active lifestyle is obtaining an environment to share your passions with other like-minded individuals. Active lifestyle communities build their identity around this mentality so that their residents can more easily make friends, create new memories, and share hobbies. Common areas are often built with group meetings in mind, perfect for clubs and resident-sponsored activities. Ultimately, this breeds a healthier environment of communal acceptance, further increasing the quality of life.
Beyond giving their residents versatility, active lifestyle communities are important because they give people the power of choice in their daily activities by providing in-house amenities. Swimming pools, exercise centers, safe places for kayaking, tennis, golf, pickleball, town centers, parks, and walking trails all serve an important purpose in fostering both mental and physical well-being. This empowers residents to have complete control over what they want to do and gives them the satisfaction of knowing their favorite routines are right outside their door.
Experience the Coastal Carolina Difference
Why are active lifestyle communities so important? It's about fostering a sense of independence and satisfaction. If you cater to everyone's quality of life, the general happiness of a community increases. That happiness spreads to other visitors and inspires them to join other like-minded individuals and create lifelong friendships. What benefits you physically can also do so mentally, and vice-versa. Brunswick Forest takes this philosophy seriously, and everything our team does is to cultivate a personal paradise for each of our residents. Looking to see the coastal Carolina difference for yourself? Visit us with a Coastal Discovery Tour or contact our team at 833-497-1001.