THE 3RD ANNUAL CARDBOARD BOAT REGATTA!
September 17, 2013
Brunswick Forest

Anchors away! With the 3rd Annual Cardboard Boat Regatta just around the corner, it is the perfect time to begin building your cardboard vessel! Here are a few tips and tricks to help with your boat construction.
•Elmer's wood glue, duct tape and corrugated cardboard are three supplies that will go a long way!
•Outdoor paints work great when decorating your creation.
•The size of your boat matters- keep in mind that longer boats are faster but harder to turn while boats shorter than 10 feet are harder to steer straight.
•Adding caulk to the edges of your boat design is a great way to help with waterproofing your vessel.
•Make sure to wait completely for the glue to dry!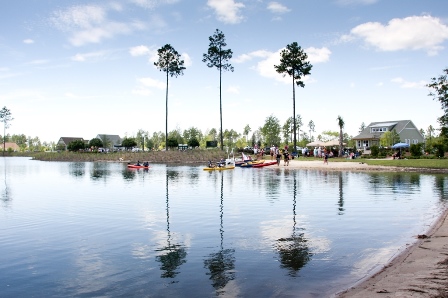 Don't miss the boat at this year's 3rd Annual Cardboard Boat Regatta, Saturday, October 12th at Hammock Lake in Brunswick Forest. The festivities will kick off at 11am with the race beginning at 1pm! Cheer on your favorite cardboard boat while enjoying a DJ and Italian ice. Stick around after the race for a concert at Hammock Lake Park from 5-8 pm featuring the School Boys!
Check out photos from last year's event here!
For more information on this event please call 910.342.2215