Summer Sweet Treats with Chef Scott
July 26, 2019
ISWebmaster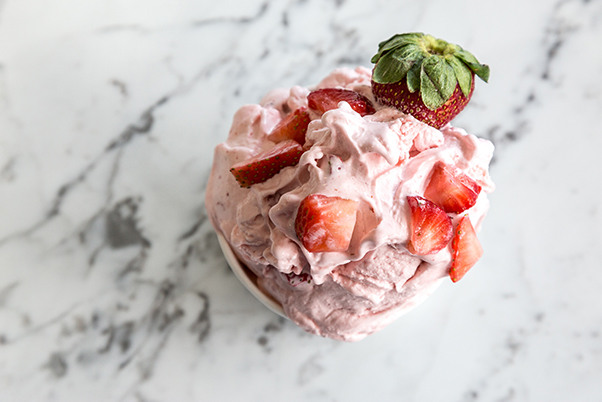 When the weather gets hot, everyone's first thought is "let's head to the beach." But when the day begins winding down, nothing quenches the Wilmington summer sun like something cold and sweet. This time of year, there are plenty of sweet treats that you can indulge in like cakes, popsicles, iced coffee and watermelon. These are all secondary to the most well-known summertime treat of all: a cold scoop of ice cream. You can enjoy it in a cone, as a sundae or fresh out of the container. No matter how you choose to enjoy ice cream, you can't get much fresher than homemade. Chef Scott Euvrard of Cape Fear National's Forest Restaurant, has provided us with an easy to prepare recipe.
"This is only one recipe you can use for homemade ice cream, but you can add any number of fresh fruit or other fillings to make it your very own signature frozen creation," says Chef Scott. He then elaborates on the versatility of this recipe by stating, "Homemade ice cream can be made with minimal ingredients. The best part of it being that this recipe is super fun to manipulate. Condensed and sweetened milk, heavy cream and frozen fruit are all you really need to get started!" Chef Scott often likes to take this recipe and make a Neapolitan style, three-layered treat, which can also be used to make ice cream cake with the help of a cake pan! The following recipe is for homemade strawberry ice cream; the ingredients you will need include:
two cups heavy cream
one 14 oz can of condensed milk
one cup of frozen fruit
First, Chef Scott recommends you cut the frozen fruit that you have into smaller pieces, so that you will be able to puree it easier in a food processor. Take the heavy cream, cut up frozen berries, condensed milk and whip them together into a creamy substance in a bowl. It's now time to take your cup of frozen berries and place them into a food processing unit, puree them until smooth. You'll then want to take the creamy mixture that you've created and transfer it into a loaf pan and add the strawberry puree to the mix until it's nice and blended. You can now place the pan into the freezer or choose to layer in more flavors, using different fillings if you so desire! "The possibilities are endless with this recipe, so don't be afraid to get creative," Chef Scott concludes.
There you have it! A little piece of sweet summer bliss that you can prepare in your very own home at Brunswick Forest. With a little elbow grease, you can now create your own homemade ice cream that will have friends, family and neighbors screaming for more all summer long!