SUMMER CONCERTS IN THE PARK
June 5, 2013
Brunswick Forest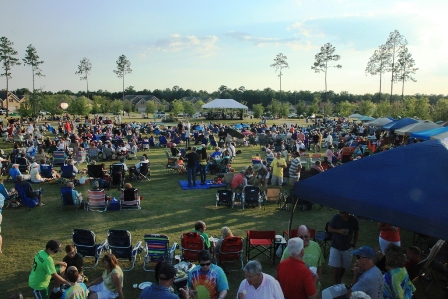 Brunswick Forest's Annual Summer Concert Series is back for its 5th year! This year's lineup of performers will have you moving and grooving all summer long at beautiful Annsdale Park! With the stage set, lights on and the music turned up, friends, families and neighbors will enjoy a fun-filled evening of live entertainment!
Brunswick Forest will be kicking-off the Summer Concert Series on Saturday, June 8th from 6-9 pm with The 4 Knights Band covering all your favorite shag tunes! Make plans to join us in Annsdale Park and be sure to pack your lawn chairs, favorite snacks and beverages of choice. Then, sit back, relax and let the music carry you away!
COMING UP NEXT!
•July 13, 6-9 pm- Jam to the cool, classic rock beats of Mike Edwards & The Banned.
•August 10, 6-9 pm- Get ready to shimmy and shake to the party hits of 360 Degrees!
Stay up to date with all of our Brunswick Forest events here!
888.371.2434
www.BrunswickForest.com