Stuff a Truck: First Responders Reach Out
October 18, 2019
ISWebmaster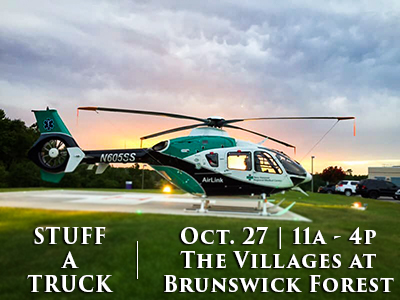 The powerful machines that serve first responders in our local community are impressive sights to behold. They're the workhorses that provide firefighters, police officers and paramedics with reliable service. October 27th from 10am to 4pm, "Stuff a Truck" will be providing you with the chance to view these amazing vehicles up close and personal.
Taking place at The Villages Town Center in the EmergeOrtho parking lot, Stuff a Truck will feature numerous firetrucks, ambulances, helicopters and other vehicles on display for your viewing pleasure. First responders from several locations in the greater Wilmington area will be hosting this event, including New Hanover Regional Medical Center and their AirLink/VitaLink division. They are excited to educate the general public on how these machines help them do their jobs. Local EMT Alex McKinney fills us in on all the details, "This is really about the first responders who partner with small rural hospitals, transporting patients to larger facilities throughout the area. Stuff a Truck is a great opportunity for kids, adults, families and others to come and meet those responders in a more casual setting, and learn more about the vehicles they use," he says.
The vehicles that will be present at Stuff a Truck will be provided by local departments like Brunswick County EMS and Leland Fire Rescue. Brunswick County EMS will have a critical care truck, an EC-135 rescue helicopter, and several specialty operations vehicles like their mass casualty evacuation bus. Leland Fire Rescue will have a variety of fire engines on display as well, complete with all the bells and whistles! Alex has worked as an EMS in Charlotte for eight years and one year with VitaLink here in Wilmington. He finds events like Stuff a Truck are fun, educational and can have a positive impact on the community. "I've been working in the field for EMS for many years and have attended plenty of events like this. This is the first year that I will really be fully involved," he says.
Most importantly, Stuff a Truck is asking for donations to support communities in the Bahamas that were heavily affected by Hurricane Dorian. "Eleuthera island was a place that was devastated by Dorian, so we are collecting donations for their relief. I still remember what Hurricane Florence did to Wilmington and the surrounding areas. So many people volunteered their time helping the locals here, and now we want to do the same for the communities hit by Dorian." Vector Aeromedical, a company based in Raleigh, is one of the medical partners looking for charitable donations to give back to locals in the Bahamas. Stuff a Truck is looking to provide basic supplies like diapers, toiletries, beds, pillows, leather work gloves, baby formula, books, magazines and first aid kits. Monetary donations are also being accepted at the event! If you're looking to donate first aid kits for this wonderful cause, you can conveniently walk on over to the CVS Pharmacy in The Villages to purchase some! "If I could travel down to the affected areas I would, but Stuff a Truck is a great way to directly make a positive impact on these communities," Alex adds.
Stuff a Truck is free to attend for all age groups. Food trucks will be providing food at the Stuff a Truck event. Alex states how this is a great chance for residents to meet local first responders face to face. "We want people to know that we're real people that serve their communities. The best part for me is seeing people come out and support a good cause," he concludes. Brunswick Forest residents are highly encouraged to come on out to The Villages and experience this partnership between man and machine!
Stuff a Truck Event
Where: The Villages Town Center at Brunswick Forest
When: October 27th, 10am – 4pm
Price: Free for all ages