Spring Into Our April Home Showcase
April 5, 2022
ISWebmaster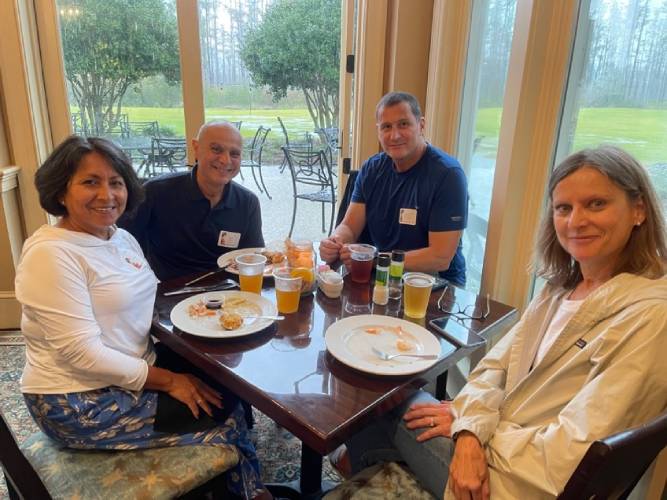 A Good Time Down South
There's a lot to be excited about in the upcoming months here at Brunswick Forest. If you've never been to one of our Coastal Home Showcase Weekends, it's a great time! During these events, you will explore several gorgeous model homes by our preferred builders, and also engage in fun activities, indulge in delicious meals, ask our team questions about relocation, and explore the Wilmington locale.
Come Experience our Coastal Showcase
Dozens of aspiring homeowners flock to our Showcase Weekends to experience the lifestyle our community offers. While our Coastal Discovery Tour provides you with a more individualized experience, our Coastal Home Showcase Weekends are more structured around several main events hosted throughout each day. These shows also provide you with a great opportunity to meet other like-minded individuals who are visiting and even converse with actual Brunswick Forest residents.
Here's a sneak peek at next month's upcoming event schedule:
Thursday, April 21st
Get your weekend in paradise off to a great start with our drop-in event. This will be an opportunity to kick up your feet, get settled, enjoy a beverage, and obtain information from our front desk about restaurant recommendations and area events. Hang on to your showcase booklet, because there's a lot of fun awaiting you in the days ahead!
Friday, April 22nd
The Showcase of Homes will be open to tour! Be sure to stop by your favorite models and ask any questions you might have.
Enjoy a tasty lunch in one of our brilliant model homes. For Friday, lunch will be provided by Legacy Homes and hosted in their Hudson floor plan. If you've ever been curious about a specific home, this is your chance to go straight to the source. Builder liaisons will be on hand to answer your every question, while you get to kick back and enjoy a great time.
To close out a wonderful Friday evening, we'll host an official welcome reception over at our Welcome Center complete with refreshments and catering by Chef Scott Euvrard. There will also be a special wine tasting by Bridgewater Wines and live music by Monica Jane. A great time sponsored by our building partner, Kent Homes. 
Saturday, April 23rd
Our homes will be available to tour all day long, and while you're enjoying the home show there will be plenty of other events to hold your interest. Get your tour booklets ready, because our Showcase of Homes will be starting bright and early.
Several events take place annually around Brunswick Forest that are the talk of the community. Our cardboard Boat Regatta is one of the biggest and most anticipated of them all! Neighbors band together to represent their neighborhoods in a boat building and racing extravaganza. Each team must build a homemade cardboard boat and race them across Hammock Lake! It's a great way to see our community spirit in action and have a lot of fun. This is one event you don't want to miss!
Kick up your feet and have a delicious lunch in our Welcome Center, provided by our partner, Atlantic Bay Mortgage!
To round out the day, the evening comes to a magnificent crescendo with our evening event hosted by one of our builders in a stylish model home! This is where all our guests and residents come together to enjoy a relaxing evening together featuring delicious food, drinks, and live music. Once you join the party, you'll feel right at home!
Sample Our Lifestyle
April 21st will be here before you know it! So be sure to RSVP now and see what a coastal lifestyle in Wilmington can do for you. If you have any questions, contact our team at 833-497-1001. You can also go ahead and reserve your spot here.