Spring Into A Coastal Homes Showcase: The April Spring Homes Showcase
March 15, 2021
ISWebmaster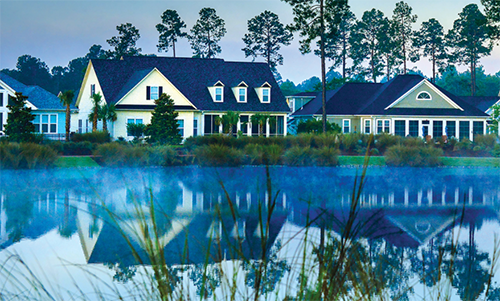 Brunswick Forest has recently resumed its tradition of inviting aspiring homeowners down to the greater Wilmington area to experience our lifestyle firsthand. Similar to our Coastal Discovery Tour, the Coastal Homes Showcase possesses a great opportunity where you can engage in touring the homes here, mingle with other aspiring residents, engage in outdoor activities, and even have lunch in a model home with one of our building partners.
Spring is just getting started, and that means another Coastal Homes Showcase will be happening again in April. The next opportunity you will have to become Coastal by Nature® will be April 16th – 18th, and there will be lots of activities to partake in. So, get out your short-sleeved shirts and golf clubs, because this is going to be your chance to try out your coastal lifestyle before deciding on a dream home.
Speaking of traveling, you will need a passport for this journey to Southern paradise. Not the one you need to go overseas, but something similar that will let you travel Brunswick Forest at your leisure for this event. Upon arrival to our master-planned community, you will be given a "passport" that will have several homes listed for self-guided tours. By visiting each home on the list, you will be able to turn that item in after the weekend is over to receive a weekend gift.
Below is an itinerary of how this show will play out:
Friday –
The day will start bright and early at 9am, as our Coastal Homes Showcase hits its stride. You will be free to bounce around each neighborhood in our community, using the showcase book we provide as your guide. As you tour each model on the list, you can then check that model off your passport by checking in with the representative there. The home touring process will continue until 5pm.
After all that home browsing, you are sure to work up an appetite. Luckily for all of us, one of our building partners, Legacy Homes has offered to provide lunch! Not only will you get to eat inside of the beautiful Legacy Homes model home and eat delicious food, but you will also ask our building partner any questions you might have so far. It is a win-win! Lunch will be from 11:30am – 1:30pm and will keep you powering through the rest of the day.
You can settle in with our "Wine Down" reception party in our Welcome Center. There will be a wine tasting courtesy of our friends at Bridgewater Wines, appetizers hot off the grill from Cape Fear national's own Chef Scott, and live music from one of Southeastern North Carolina's local artists. Our building partner, Logan Homes, will be hosting the event and be on hand to speak with you. This event will start at 4pm, last until 5:30pm and can be considered your "welcome package."
Saturday –
Rise and shine! It is time to get going on your second day of touring our neighborhoods for your ideal dream residence starting at 9am until 5pm.
From 11:30am -1:30pm you can top yourself off with yet another great lunch alongside one of our premier builders. You can stop by to get a meal, meet our builder Kent Homes ask questions, and have a look around their fabulous model home!
And what better way to round out a day spent in paradise than a drink or two at our Saturday evening happy hour event? You will experience another great model home and you will meet more of our builder representatives from Fogleman Homes. Live music and appetizers will be sure to dazzle you and leave you with a lot of good memories from our community. Best of all, you will get the opportunity to interact with actual Brunswick Forest residents and hear their stories of how they came to love Brunswick Forest.
Sunday –
This is the final curtain call (For this showcase event at least)! It will be an early start at 9am, so you can go ahead and make any final passes or take one last visit to that home you cannot stop thinking about. Take note of your favorites and do not forget to turn your passport in to receive your complimentary gift!
Brunswick Forest is not about pushing a sale; it is about letting you experience a style of living that is stress-free. It is about letting you try before you buy, and having you feel like a resident for the weekend. We want you to be a part of something greater and enjoy every minute of it. So be sure to sign up for April if you have not already! And keep your eyes peeled because we will have more Coastal Homes Showcase events coming soon. Our last Coastal Homes Showcase Weekend in March brought 12 new families to make their homes in Brunswick Forest. Come and be part of the fun for April. Contact our team at 833-497-1001.