Smaller Size, Big Personality: Why Downsizing in a New Home Could Work for You
October 15, 2021
ISWebmaster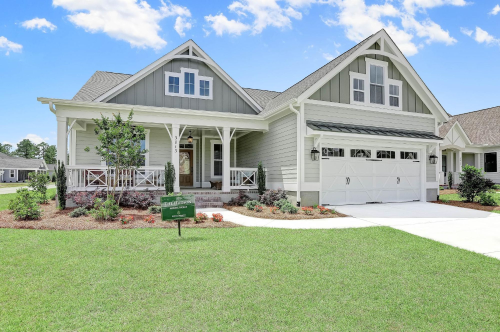 A home is something that should suit your needs as an owner. If your residence is too big to live in comfortably or doesn't suit your lifestyle, then that home might not be ideal for you. Downsizing from a large floorplan to a smaller one allows for you to still have a wide variety of options and tasteful features, without feeling that there's excess space.
Brunswick Forest is known in Southeast North Carolina for offering our residents multiple floor plans, elevations, building options, and home variety. Some homeowners may start with a larger home in the beginning, but as their lives change, so do their wants. Over time, they may feel that a physically larger home just isn't needed as it once was. This feeling isn't all that uncommon as you might think.
So, investing in a smaller home isn't unheard of, but what advantages does that offer you as a homeowner? Brunswick Forest has a few answers about how downsizing could work for you!
Less Maintenance
While many homes in Brunswick Forest are low maintenance on the outside, a smaller home allows for less intensive interior upkeep. Having fewer rooms might seem like a downside but cutting away excess and keeping the essentials is an advantage worth having. And when you have less to clean or take care of, it's easier to spend time doing the things you enjoy, like kayaking, jogging, or joining a club.
Lower Utility Bills
Brunswick Forest has a list of premier building partners that already engage in building homes with green features. Homes in our community are often built with more efficient systems and better environmental materials. But downsizing to a smaller home can also naturally lower your utility bills, as there will be fewer rooms to light or condition. With a smaller home you consume fewer resources, meaning you can save money you normally would have spent on bills for something else instead!
Easier to Furnish
When you have a smaller amount of square footage to manage, that means you're going to have an easier (and more affordable) process furnishing each room. That doesn't mean a smaller home can't be just as richly detailed as any larger residence, it just means you're able to put more focus on the rooms you do have. Moving into a new downsized home also means there's less worry about transporting furnishings back and forth and open floor plans allow for easier entertaining.
Overall, the real advantage of why so many of today's aspiring homeowners are looking to downsize is to help save money and initiate their move faster. If you're looking for a change, why not consider a cozier style of floorplan? Our real estate team at Brunswick Forest can discuss what you're looking for in your lifestyle needs and help decide what works best. For more information, you can contact us at 833-497-1001.