Simple, Livable, and Attractive: The Astoria C by Legacy Homes
December 14, 2020
ISWebmaster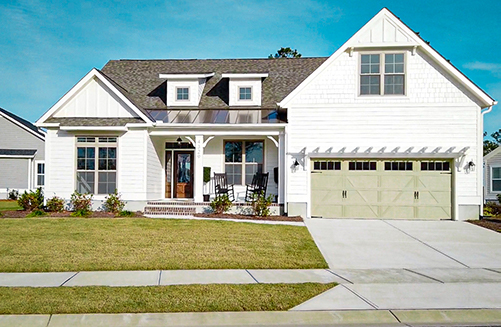 Legacy Homes by Bill Clark is an award-winning building partner with Brunswick Forest that always delivers positive experiences for homebuyers. December's featured model of the month is Legacy Homes' Astoria C.
Are you looking for low-maintenance, style, and useability? The Astoria C is a model home that you will want to see for yourself. Like all of Legacy Homes' floor plans, this one features a lot of extra space, living areas, bathrooms, and an open floor plan that is perfect for entertaining. The Astoria C is a gorgeous home that encompasses quality in every corner, and a home that will be loved for years to come. Here are a few key items to note for this model home:
This model has a finished flex room (Meaning it is versatile and can be used based on your needs) upstairs. Making the Astoria C model 2,550 square feet. The Astoria C floorplan can be built with or without the finished upstairs flex space, making it 2,334 square feet.
The Astoria C has three bathrooms and three bedrooms.
The home sits on a .29 area lot.
Tile backsplash in the kitchen, which not only looks luxurious but also is easier to clean. A tile backsplash also helps to accentuate the counter tops. The kitchen also has stainless steel appliances, for a sleek finish with heavy-duty durability.
Spacious closet in the master-suite helps for easy storage and less hassle for daily dressing routines.
High ceilings in the Astoria C give a spacious and elegant feel.
Overall, this home is a true champion when it comes to space for hosting or entertaining guests. As stated, the floor plan of the Astoria C is open with lots of room to move around freely. There is a spacious kitchen and even a large screened-in outdoor area. The screened-in porch, coastal-inspired exterior, and luxurious master-suite are just a few of the many desirable features that make this model a hot sell for any aspiring homeowners looking to move to Brunswick Forest. Aspiring homeowners who choose to tour the Astoria C can also have that same floor plan built on a lot of their own choosing in Brunswick Forest.
For further information on how you can take a closer peek at this home, or even make it your own, contact our team at 833-497-1001. You can also take a virtual tour of our homes over on our Facebook page at any time. At Brunswick Forest, a dream home is more than possible, and that is why we are happy to have the Astoria C as our breathtaking model of the month.