Shop Local for the Holidays
December 20, 2021
ISWebmaster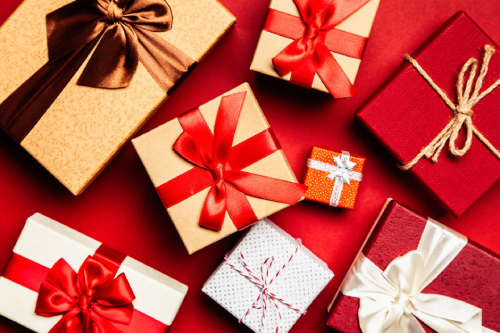 Time is ticking down for you to try and score those last-minute gifts! With several local businesses right at your doorstep, there's no better place to shop than The Villages Town Center.
Advantages And Convenience:
We are one of, if not the most convenient community in the Southeast! Our 500,000 square feet town center is full of shops and restaurants right down the road from our neighborhoods. It's great if you're in a bind for last-minute gifting ideas because you don't have to go far to find something special.
Gifts cards are perfect stocking stuffers! And what better places to get a gift card than the ones we have right here in the Villages Town Center? Having some extra funds for food and drinks can go a long way for someone. And the restaurants here have a wide variety of table fares that should please anyone on your gift list.
The Grub:
The Joyce specializes in the pub food made famous in many Irish American taverns, such as Shepard's pie, steak, Guinness pie, bangers and mash, as well as fish and chips. There are also a variety of handhelds, burgers, and a great selection of beers on tap.
Shuckin' Shack has some of the best seafood you'll taste North of Calabash, and we have a location right here by Brunswick Forest. Fresh oysters, fried seafood, grilled seafood, broiled entrees, fish sandwiches, and creative cocktails are the highlight of Shuckin' Shack.
Farmhouse Kitchen focuses on giving you the freshest ingredients to help start your day off right for breakfast and lunch. They have all the classics like eggs, bacon, sausage, waffles, pancakes, and French toast. For lunch, Farmhouse Kitchen also has plenty of burgers and other entrees to satisfy your cravings. No matter which restaurant you choose, they are all great places for a holiday gift card.
Family Dog Naturals:
Don't forget that pets are considered part of the family too! For all those special, four-legged companions in your life, Family Dog Naturals has a lot of toys, chews, and treats that they will love. Whether the gift is for your own pet or your neighbors, Family Dog Naturals has everything you need, with the approval from experts that care. Owned and operated by locals Betsy and David Head, they know exactly what would make for the ideal gift this season. The products featured here are all-natural, safely made, and packed with all the sorts of qualities that your furry companion would love!
Self-Care – Hairology, Hollywood Nails & Spa, and Leland Holistic Wellness:
Everyone needs a day or two to help maintain and nurture their physical well-being. The Villages is a well for personal health with multiple businesses offering relaxation and pampering. Hairology provides fantastic hair styling and treatment services that will make you feel like a million dollars. Hollywood Nails & Spa likewise has a variety of manicures and pedicures to choose from, so you can get your nails looking like they're ready for a photoshoot.
Well-being isn't just limited to what you can pamper or groom either. Wellness is about balancing mind and body, which is why Leland Holistic Wellness goes back to the roots of what the human body needs to be its best. With a variety of services and natural products, Christie Chadwick is the perfect person to send your giftee to for a little pampering. Essential oil treatments and salt therapy are just some of the sessions that Christie Chadwick provides her customers. For the person who deserves a day of being treated like royalty, these businesses and shops offer lots of holiday cheer in the form of gift certificates, care packages, and individual appointments.
Visit The Villages:
These are just some of the local businesses that residents at Brunswick Forest can take advantage of for those last-minute gift ideas. The Leland and greater Wilmington area is also filled with local shops eager for your business. So, instead of scrambling to the mall or Amazon why not try The Villages Town Center first?