Serves Up!
July 1, 2019
ISWebmaster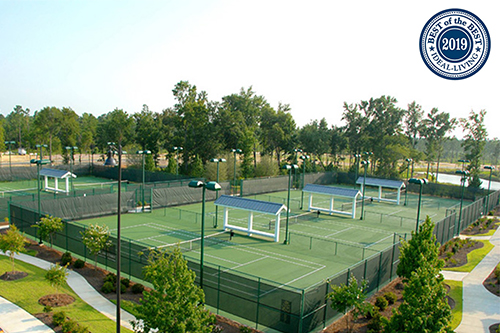 Brunswick Forest Nominated Best Community for Pickleball and Tennis!
Life is better when you start the day with a perfect serve! Here at Brunswick Forest we're known for plenty of amenities and activities. Allowing residents to enjoy everything from a fully staffed fitness center, public gardening space and championship golf. Such luxuries truly make Brunswick Forest stand out from other master-planned communities.
If you enjoy activities like pickleball or tennis, then there's no better place to live than Brunswick Forest. ideal-Living magazine has helped aspiring homeowners find their place in the best master-planned communities for over 25 years. Now running its "Best of the Best" category for the fourth consecutive year, Brunswick Forest has once again proven that it's among the cream of the crop. This category is where the opinions of thousands of homeowners, visiting ideal-Living shows around the nation, comment on what amenities they would look for in a planned community. The opinions are then collected and the top 100 communities, based on matching amenity offerings, are chosen. Categories can include Best Lake Communities, Best Mountain Communities, Best Coastal Communities and so on. Hundreds of communities from across the nation are nominated for these desirable positions, but in the end, only select nominees are chosen for each category. Brunswick Forest is honored to be chosen as a top competitor in the "Best Tennis and Pickleball Communities" category in 2019!
Racket sport enthusiasts who love activities such as tennis, and especially pickleball, have a place here at Brunswick Forest. With several dedicated courts at the fitness center and Cape Fear National, residents never have a problem setting up a game with friends and neighbors. Pickleball is a fast-growing activity that combines the elements of several other activities into one. It's accessible by everyone, easy to learn and is a simple way to stay active while having lots of fun!
To be recognized as a premier master-planned community that best aligns with amenities that mean the most to people, is an accomplishment that we're consistently proud of. No matter what your passion in life is, active lifestyles of every kind will find a home on the Carolina coast at Brunswick Forest. If life down South and the amenities offered perks your curiosity, then you'll love our Coastal Discovery Package. Take the tour, see the courts for yourself, and discover why we're considered one of the best!