Read All About It: The Coastal By Nature Newsletter
February 5, 2021
ISWebmaster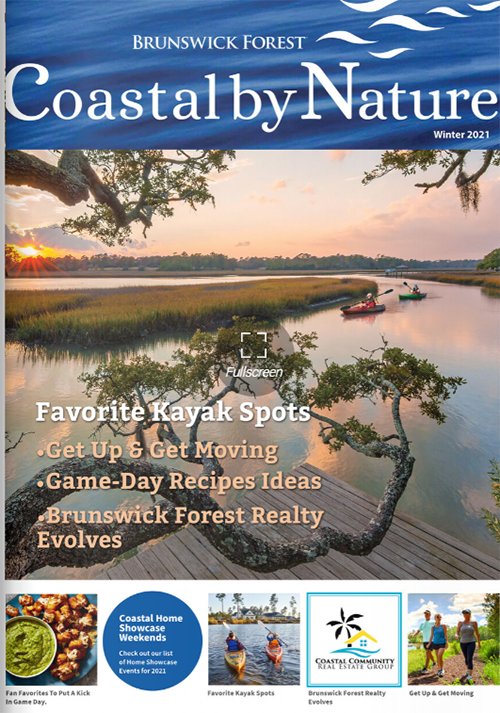 Brunswick Forest is a master-planned community that knows how to play on the laid-back atmosphere of greater Wilmington, North Carolina. But that does not mean we are a stagnant community by any means! We are always moving, developing, adding, reporting, and providing content to keep our residents in the know about what is new. The Coastal By Nature Newsletter and Villages Newsletter are great resources to keep yourself in the loop.
We're a community that has embraced technology and its conveniences. Have a question about Brunswick Forest? Use our live chat feature on our website! Want to stay up to date on our Carolina lifestyle, events and local news? Just visit the link on our website.
Our latest edition of the Brunswick Forest Newsletter has been published and can be found on the main page of our website. Inside each issue, you are going to find an interactive digital flipbook that you can manually turn the pages of! It is an experience that makes Brunswick Forest a little more involved in the lives of our readers. Here is a brief rundown of what you will find in the latest issue:
An overview of the evolution of Brunswick Forest Real Estate. Read what we are looking forward to in the upcoming year, what our plans are and what you can expect from the team.
Tasty game day recipes for the Superbowl this weekend that will leave your mouth feeling like it scored the game-winning field-goal.
Tips on easy ways to stay engaged in an active lifestyle in and around Brunswick Forest. Our mild area allows people to enjoy outdoor activities more than other communities can, so use this section to take advantage of that.
Online Fitness Programs to help keep you in shape from home while safely social distancing.
An update on how dine-in service is returning to Cape Fear National.
A list of winter activities that are perfect for locals.
Highlights on nearby businesses like Bridgewater Wines.
The Coastal By Nature Newsletter is released seasonally and provides easy access to important upcoming events, such as our homecoming weekends in case you are interested in visiting us and want to make reservations. Think of our newsletters as half informative and half introspective into what kind of lifestyle Brunswick Forest promotes. (For even further in-depth perspectives there is also our Community Album.)
The Villages Town Center is 500,000 square-feet of convenience, and the best way to keep track of everything that is going on there is through The Villages Newsletter. This newsletter is an updated overview of what to expect of businesses over in The Villages. Be it knowing which of your favorite restaurants is running a new special or where to book your next lab appointment, this newsletter is an electronic publication to keep track of what is going on. This newsletter is sent out monthly, right to your email inbox!
Though we are only at the beginning of February, you can guarantee that spring is going to be here before you know it. And as seasons begin to shift you are going to want to make sure you stay up to date with what is happening. Because in the Wilmington area, great opportunities to enjoy your lifestyle are never far away.