Purchasing Lots and Homesites at Brunswick Forest
February 7, 2020
ISWebmaster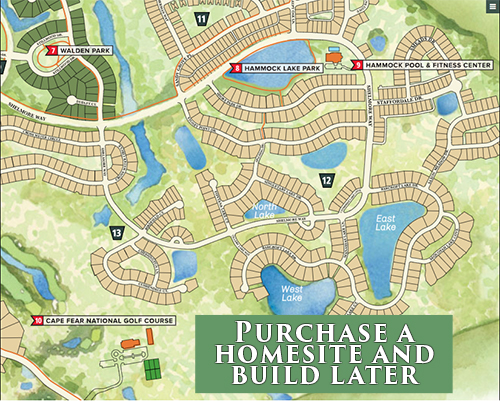 Whether you're still in the exploratory phase of home buying, or know exactly what you've been looking for, there's no denying that moving to a new area takes a lot of time and energy. The team at our master-planned community, Brunswick Forest, is here to help make sure your experience buying your dream home is stress-free. This way, you can worry less about where to build and more about settling into the charming, Carolina lifestyle.
In addition to being partnered with some of the best preferred builders in the Southeast, Brunswick Forest offers a variety of floor plans that can be customized to your liking. What if you're not looking to build just yet, however? Perhaps you've visited our neighborhoods through our Coastal Discovery Tour and have found the area you want to make your new home. but want to take some time before you set everything in stone. There could be a variety of reasons why you might not want to purchase a move-in ready home but adapting to an aspiring resident's needs is exactly what Brunswick Forest is great at!
Buying a homesite or lot is the perfect option for the aspiring resident looking to purchase their space in the neighborhood they want, without being pressured into building right away. When you purchase a homesite, there's no sort of ultimatum or specific time frame to stick to. Why is this so important? For the real estate team at Brunswick Forest, this means less stress for the home buyer. This is exactly the kind of atmosphere that we strive for and support anyone looking to embrace life here in the greater Wilmington area. Even if you're not prepared to build or move for a few years, that's perfectly fine! We'll accommodate you in the best way possible. We have an appealing range of architectural styles and neighborhood designs with water, nature and golf views. In this way, moving to Brunswick Forest isn't just a coastal dream come true, but a true advantage to people going through the home buying process. Our homesite prices begin in the $80s and offer a wealth of versatile floor plan options for you.
Whatever sort of lifestyle you're looking to live, you can rest assured your needs will be accommodated. Here, you're not pressured or forced to commit to anything. You'll always be given a great support structure from professionals who want you to genuinely look forward to living the rest of your life here at Brunswick Forest. Thinking of taking advantage of our Coastal Discovery Tour? Curious about more advantages of buying and living here? Contact the team at: 855.983.9579 and feel free to ask one of our agents any questions you might have. We also have a fantastic live-chat service on our website, in which you can ask us about any further details.