Paradise: Documented Perfectly for Your Enjoyment.
May 4, 2020
ISWebmaster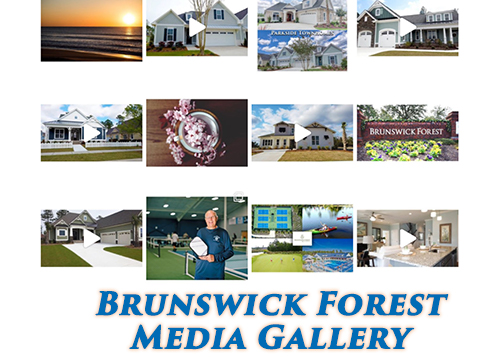 Seeing is believing! There are plenty of reasons why our residents refer to their home in Brunswick Forest as their own little slice of paradise. The most important reason being, they took advantage of all of the options we offer and made their decisions to cultivate their ideal lifestyle here. You, like them, can decide how you want to live, what neighborhood and home you want to live in and embrace our Coastal By Nature® environment. To peruse Brunswick Forest and the sort of options we have available, you'll want to check out our updated media galleries on our website.
The galleries page simply put, is a treasure trove of everything Coastal By Nature. When you browse the main Brunswick Forest website, all you do is click the gallery link under the Location and Lifestyles and you will instantly be transported to a virtual portfolio of the entire community. It is about as convenient as you can get! Here are just a few of the main highlights that you will find on the gallery page:
The Community Album:
This feature alone is easily enough to entice anyone to learn more about life at Brunswick Forest. From inspiring testimonials by real residents, to amenities, details regarding each neighborhood, nearby hotspots like downtown Wilmington and everything in between. This is the place to go if you want a quick reference handbook when learning about the community. Start exploring the Community Album.
Showcase of Homes Album:
If you are more interested in the building partners at Brunswick Forest and the available homes, then the Spring Showcase of Homes album will also catch your interest. Perfect for the aspiring homeowner who wants to browse beautiful homes without having to leave their chair. This digital resource is basically a flipbook that lists every available home, the specs, details and builder. Flip through our Spring Homes Showcase.
Coastal By Nature Guide:
This digital brochure allows you to explore our variety of neighborhoods and learn how to make the most of your life on the coast. Anything you want to know is accessible from anywhere with just a click. Local events and points of interest are listed here as well, so you are well informed of what to expect when you visit Brunswick Forest in person. Start educating yourself now, so you'll be in the know. Coastal By Nature Guide. 
Community and Virtual Tour Videos:
A picture may hold a lot of value, but a video can bring that to life. For a quick preview of our Coastal By Nature® lifestyle, watch our short highlight videos. Right now, aspiring homeowners can also view dozens of model homes on their screen with Brunswick Forest's virtual touring experience! These videos allow you to view inside model homes, each in its own neighborhood with the featured builder mentioned at the beginning of the video. From Logan Homes, Mungo Homes, Kent Homes, Legacy Homes by Bill Clark and more, these videos give you a taste of different floor plans and styles offered. View more of the virtual home tours over at Brunswick Forest's YouTube Homes To Tour playlist.
The real advantages in conveying a message to someone, lies in the way it is told to an audience. It is the way a story is illustrated that matters most. A community should be able to appeal to people at home, so they instantly know what its about. Someone should be able to have videos, photos, area guides, home guides and more resources right at their fingertips; the team at Brunswick Forest know this, and that is why they've gone through the extent of providing you with what you need. See the Gallery page for yourself.
Contact Brunswick Forest's real estate team at 855.983.9579 for more details!