NEW NEIGHBOR SPOTLIGHT | THE LEDERHOUSES
January 23, 2015
Brunswick Forest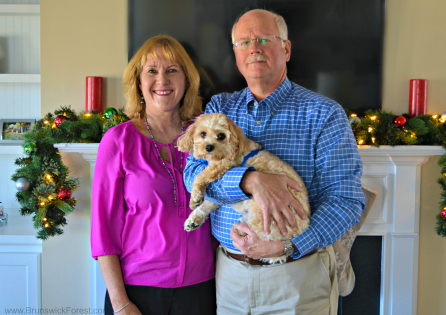 Bill and Marian Lederhouse moved to Brunswick Forest in August from Williamsville, New York—a village just outside of Buffalo. They joined their daughter, who moved to the area to become a pharmacist at New Hanover County Regional Medical Center. "The warmer weather brought us south," say Marian, "and our daughter brought us to this area.
The couple had looked "all over" the south when considering a location for their retirement, including the Charlotte area and Florida, but they are happy they settled in Brunswick Forest. "What I love most about the area is the sunshine," says Marian. "Up in Buffalo, we could go 10 or 11 days without seeing the sun. Here, you wake up and the sun is shining almost every day."
The amenities at Brunswick Forest and the variety of ages that live in the community made the Lederhouses select this community over any others in the area. "We enjoy seeing the families that live here and the fact that it's not a 55+ community," says Marian. One of their favorite community activities is swimming in the new Hammock Pool. "It's wonderful, especially in the summer. I can go for a swim at night in the summer and it's still warm."
Also joining Marian and Bill on the move down from New York is their little dog, Darby, who is a Cavachon, a cross between a Cavalier King Charles and a Bichon Frise. Darby loves going for walks around Brunswick Forest's miles of walking trails. "It's great that there are so many options for walking," says Bill. "We can take a different route every day."
They have not had any trouble meeting new people because of all of the social events and activities at Brunswick Forest. Marian has gone to yoga at the Fitness and Wellness Center and wants to join the book club. Bill, an avid woodworker, has just started to attend the community's woodworking club. The couple has also thoroughly enjoyed all of the social events at The Forest at Cape Fear National.
The Lederhouses are big music fans and are looking forward to the Brunswick Forest Summer Concert Series. They hope to head to Wilmington soon to catch some live music shows. "We were pleasantly surprised at all of the culture there is in Wilmington," says Marian. "It really is a cosmopolitan city!"
Welcome to the neighborhood, Marian and Bill!
888.371.2434
www.BrunswickForest.com