NEW NEIGHBOR SPOTLIGHT | THE HOLLYS
November 18, 2014
Brunswick Forest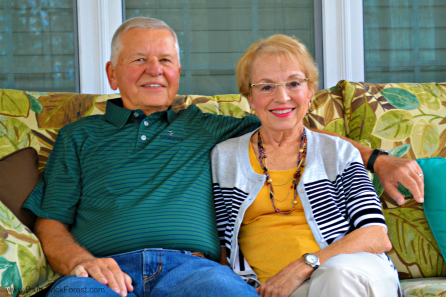 Peg and Steve Holly moved to Brunswick Forest about seven months ago and love the community's active way of living which has helped Steve lose over 30 pounds. "It's a much healthier lifestyle," says Steve. "The community is so conducive to exercise." The Hollys utilize the Fitness and Wellness Center and enjoy power walking and biking around Brunswick Forest's nature trails.
DISCOVERING BRUNSWICK FOREST
The Hollys moved to Brunswick Forest from Clayton, North Carolina, but are originally from West Virginia and have lived in Virginia, Delaware and Louisiana. In the past, they enjoyed visiting North Carolina and vacationing at the area's beautiful beaches, but it took a rainy two-week vacation in North Topsail last fall to finally make them decide to seriously consider moving to the area. "We couldn't go to the beach so we drove to Brunswick Forest to take a tour," says Peggy. "Steve had been in touch with Kim Fanelli for several months and we had looked at Brunswick Forest's website. We thought it was time we saw the community for ourselves."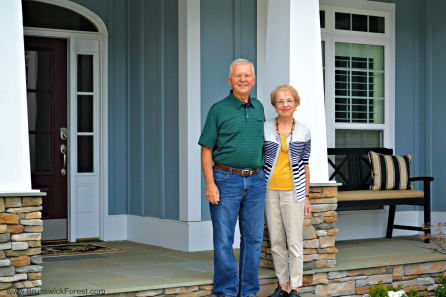 AN ACTIVE COMMUNITY WITH A WEALTH OF AMENITIES
They liked what they saw. The Hollys were especially happy with Brunswick Forest because of its amenities. "We liked that all of the amenities were already in place," says Steve. "We didn't have to wait for them to be built." Peggy and Steve enjoy using the community's pools and their grandchildren especially love the new Hammock Pool with its splash pad.
While their modified Harmony II home was being built by Trusst Builders, the Hollys rented a home in Jefferson Landing and got to know the neighborhood and its friendly residents. "They really took us in," says Peggy. "We are so happy with all of the people we have met." Steve and Peggy enjoyed attending neighborhood socials hosted at the clubhouse at Cape Fear National where they were able to meet new people. "What's exciting is there are new people moving in all the time," says Steve. "We love meeting our new neighbors and everyone has been so kind and welcoming."
Welcome to the neighborhood, Steve and Peggy! We are glad you are here.
888.371.2434
www.BrunswickForest.com