NEW NEIGHBOR SPOTLIGHT | ALAN AND LINDA DINKELACKER
November 29, 2015
Brunswick Forest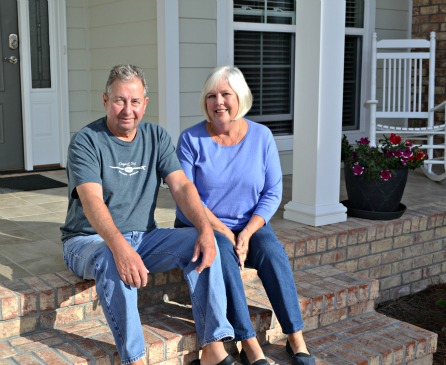 Alan and Linda Dinkelacker moved to their Carolina style Trinity model home in June from Maryland and, while they have lived in many places throughout their lives, they are happy that they chose to relocate to the Southeast. The couple found out about real estate opportunities in Leland, North Carolina through an Ideal Living Resort and Retirement Expo and were attracted to the area due to its mild climate, good hospital system and proximity to the City of Wilmington.
BENEFITS OF LIVING IN A MASTER-PLANNED COMMUNITY
Linda says she enjoys that Brunswick Forest is a carefully-planned community with a well-designed infrastructure and plenty of natural areas. "I like knowing how it's going to look years from now," she says. The couple also found Brunswick Forest's many amenities appealing, and enjoy being able to ride bikes along the community's many biking trails.
MEETING THE NEIGHBORS
Alan and Linda say that they have not had any trouble meeting new people in the community due to the friendly nature of Brunswick Forest residents. Linda attends meetings for the Cape Fear National Women's club, which hosts a get-together luncheon for the neighborhood women once a month. The couple is looking forward to more new neighbors moving in to their section of Cape Fear National soon.
ACTIVE LIFESTYLE
Both Alan and Linda play golf, however Linda jokes that she just plays "at it." "I don't keep score—that's too depressing!" she says. She plans on beginning some yoga classes soon and enjoys the community's pools, especially the new Hammock Pool located in Shelmore.
Welcome to the neighborhood, Alan and Linda! We are so glad you chose to make your new home in Brunswick Forest!
888.371.2434
www.BrunswickForest.com