Move-In Ready, Resale Homes at Brunswick Forest
September 7, 2020
ISWebmaster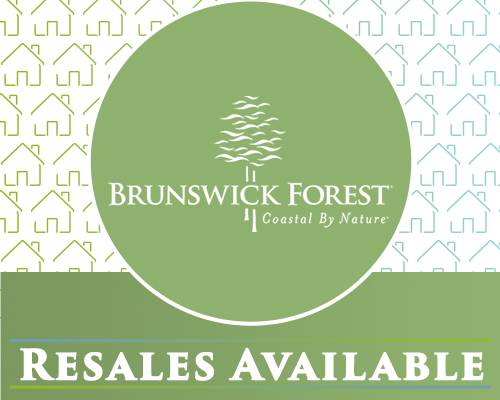 A dream home is more than just a goal, it is one of the greatest life achievements. But this accomplishment does not have to remain a fantasy, because at Brunswick Forest getting the home you have always wanted is easily a reality. In addition to a wide variety of move-in ready homes such as brand-new models, these previously owned homes give another buying option with many advantages.
Resales are homes that are move in ready, but often exist in neighborhoods where construction is already complete. While Brunswick Forest has 10 amazing building partners that offer a variety of floor plan choices, that is not the only way to purchase the home you have been looking for. There are three different ways to buy a home in Brunswick Forest including move-in ready homes, purchasing a home package, or purchasing a homesite to build on later. Resales are move-in ready homes, meaning that there is a lot less for you to think about when you re-locate.
Brunswick Forest residents will sometimes decide to move into another home inside the community. This can be for a variety of personal reasons including the desire to downsize or adapt to changing lifestyle needs. The result is leaving behind an immaculate home that is fully move-in ready and waiting for a willing new resident to purchase it! Why purchase a resale home? The concept is simple, it allows you to purchase a home in your chosen style and avoid several steps in the building process. While Brunswick Forest offers a stress-free building process, a resale home is an ideal way to skip that all together. Resales can also offer a different price point, unique view or style of living that is not currently offered in a newly constructed home. A move-in ready home allows the new homeowner to quickly assimilate into their Coastal by Nature® lifestyle, giving them more time to make new friends, find a new physical activity, and exploring the greater Wilmington area.
At the end of the day this is another great option from the team at Brunswick Forest that offers supreme versatility and choice on the part of the homebuyer. Sales agents are also able to offer tours both virtual and in person of the home you desire. Whatever your choice might be, rest assured that resale homes in Brunswick Forest are a choice you do not want to pass up. If you have further questions about how this works and what homes are available to look at, consider contacting the team at: 855.983.9579. Peek at the Homes to Tour Videos on Brunswick Forest's Facebook to see other great neighborhood models.