Looking To Sell Your Brunswick Forest Home?
January 25, 2018
Beth Burgee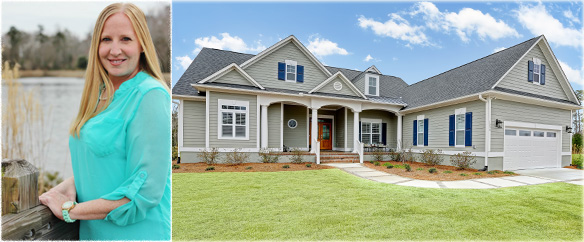 Looking to sell your Brunswick Forest home, but unsure of where to begin? Deciding to sell your home can be a bit overwhelming at first. The process can be time-consuming and stressful if you don't have the proper knowledge and industry expertise that our team of professionals has. That's why we're here to assist you every step of the way!
INTRODUCING BRUNSWICK FOREST'S RESALE SPECIALIST: Kelly Gorman
Kelly Gorman, Brunswick Forest's longtime Resale Specialist, is here to help with your resale real estate needs.
"I am proud to be part of this award-winning master-planned community. It has been quite an amazing experience seeing the community grow from almost the beginning and I am excited to see what is in store for the future."
Kelly will walk you through our certified listing presentation offering you a unique marketing plan for your property. She also offers high resolution, professional grade photography of your home or homesite for marketing and advertising.
Brunswick Forest will also run regularly scheduled advertisements in local print media on a weekly and monthly basis as well as market your home on our website under our Available Properties Page.
"We spend $2 million towards generating new leads, tours and sales for the Brunswick Forest Community! That's over 7,400 leads, 2,500 tours and 300 sales per year…one of those could be your home or homesite!"
Once your home is listed through Brunswick Forest, Kelly is able to gather feedback when your home or homesite is shown, in order to gain a better understanding of how to market your property based on buyer's preferences.
DESIGNED TO SELL
Now that your home is on the market, how do you get it ready to sell?
Resident Builder Liason and Design Specialist, Lynn Crawford, gave us a few of her favorite tips and tricks for selling a home quickly. Since most buyers will be looking at builder models simultaneously with re-sales, the more your home looks like a model for a new home, the better.
Unsure of how to re-create the "model home" look? We've got you covered! Lynn suggests creating a space with neutral home decor, minimal clutter and maximum natural light. Essentially, you're looking to create a visual storyboard for your space. Show how the space should be used with furniture and accessories.
Also topping the list for a quick-sell is to create a high-impact curb appeal. Clean up the front of your home to make it stand out.
"Remember that first impressions are made before crossing the threshold. Curb appeal is very important, and can dramatically influence a potential buyer even before they enter the home. Think about seasonal color in flowers or plants on a porch or by a walkway, and make sure all shrubbery is trimmed, lawns edged, porch swept and a door mat that looks brand new is outside the front door," stated Lynn.
LOOKING TO SELL YOUR BRUNSWICK FOREST HOME?
If you have a need to sell your Brunswick Forest home or property, Kelly will be on hand at Cape Fear National on Tuesday, January 30 from  4-6 pm to answer any questions you might have related to selling your property.  She will be teaming up with Lynn Crawford for their regularly-scheduled Dynamic Duo Presentation, paired with a terrific wine and cheese spread! Give Kelly a call if you are interested in attending – 910.383.2488 – and she will save you a spot!
www.brunswickforest.com
833-899-7920