Looking Back on 2019
December 30, 2019
ISWebmaster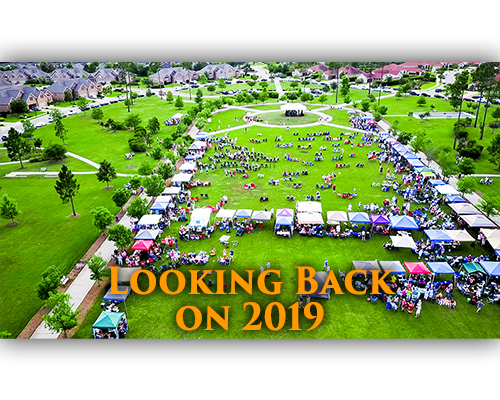 Another year, another fantastic chapter for Brunswick Forest! Now, 2020 is just on the horizon, and the real estate team here at our master-planned community has a special message for all our broker friends!
With the 2020 right around the corner, Brunswick Forest wants to take this time to thank all the fantastic brokers and agencies that we work with. Our bond with you is important to us, because we love to make everyone feel like they are a part of our family! 2019 was a year of fun and growth for Brunswick Forest, and it looks like that trend is going to continue strongly into the new year. We hosted several concerts during the summer at The Fitness and Wellness pool as well as Annsdale Park. Dock Dogs made a splashing appearance in our neighborhoods as a major event, where canine owners and enthusiasts came from all around to see these dogs strut their stuff.
Our homecoming weekends were filled with fresh new faces, eager to be a part of our family. World-class amenities, resident-sponsored events and fundraisers continue to be a lively part of our neighborhood scene. Events continue to also grow at a steady pace over at The Villages Town Center. Our community always looks forward to activities like the Friendsgiving Race, Auto Show, Beethoven Race and various other gatherings.
Speaking of amenities, we are proud to finish the year out by opening the brand-new Cutlar Community Center at The Villages. This space is located between Family Dog Naturals and Farmhouse Kitchen. The space now serves as a large open event room that can fit up to 72 guests. The Cutlar Community Center is now available for rent by residents for clubs or private meetings. The Villages has also seen the development of new business over the course of the year, such as Farmhouse Kitchen and EmergeOrtho's 40,000 square-foot facility! Coming up in the new year, The Villages will break new ground in offering independent living apartments by Liberty Senior Living. The construction of this area has already begun to take shape, and will continue doing so throughout 2020
2019 was also a year that involved planning for our new amenity! The amenity will be called Reflections at Brunswick Forest. Preparations have already been made to break ground, and land has been cleared for it. The amenity is scheduled to be completed in 2020. So, be sure to keep your eyes peeled!
The Fitness and Wellness Center had a whole host of revisions in 2019 as well. Features here were given further refinements such as gazebo ceiling fans and curtain areas help to make our outdoor common spaces even more comfortable! Many of the activities here at Brunswick Forest are run by the residents themselves, such as the 9th Annual Cardboard Boat Regatta Committee, Annual Craft Fair, NFL Tailgate Party and Meet the Clubs, would simply not be possible without our residents engaging in an active lifestyle.
In terms of home development, 2019 has been a year of incredible growth. Brunswick Forest saw the release of new neighborhoods, all of which have been well received.  The Lakes neighborhood expanded throughout the year, featuring excellent models by Kent Homes in the West Indies style priced in the $400s. Phase two of The Lakes is shaping up to also be highly desirable, with customizable home designs being provided by our preferred building partners in the high $400s. New home construction for The Lakes has been steady overall, and is looking to keep doing so in the coming year. Egret Cove's coastal cottages are also selling quite well, bedazzling new homeowners looking to relocate down South. Logan, Kent and Legacy Homes are all looking forward to soon welcoming the first new move-ins here! Cape Fear National, with its gorgeous location right on a championship golf course, continues to do well with its pristine nature and water views.
Overall, 2019 has been successful for Brunswick Forest. The team can't wait to see what the new year has in store for our community! Whether your client is interested in touring our neighborhoods, partaking in our Coastal Discovery Package, or looking to experience the Wilmington area, we are excited to meet you! We thank you for choosing Brunswick Forest in giving potential residents a better sense of home, and the coastal lifestyle they deserve. Your referrals continue to be vital to our success! If you or your client are interested in experiencing the Brunswick Forest way of life for yourselves, be sure to contact us at: 855.983.9579