Local Businesses Are Open for Your Enjoyment
October 7, 2020
ISWebmaster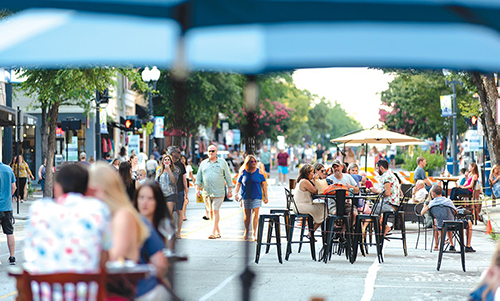 You cannot keep a good beach town down. Strands of white sand beaches as far as the eye can see, a charming coastal atmosphere, and a plethora of historical value dating back to the 1700s, make Wilmington the envy of many out of town visitors. Though strange times have made things a bit quieter for the shops and restaurants there, recent efforts to restore a sense of normalcy have been successful. Downtown Alive is a local project that has turned nearly all Front Street into an extended outdoor patio for shopping and dining. And it has been extended through October 18th!
Part of a movement happening in multiple cities across the country, Downtown Alive is also active in the Greater Wilmington Area. The goal of this endeavor is to support local shops, restaurants, and other businesses that have been hit hard by the COVID-19 pandemic. While Wilmington itself has remained active in some form during this time, it is only during the recent few months that there has been a concentrated plan to make things both safe and enjoyable for residents. Visitors from out of town have also noticed the activity and have begun to steadily stream into our historic waterfront again, following proper social distancing and mask-wearing protocols.
Front Street, the main artery for downtown Wilmington is closed off for pedestrian use and restaurant seating for great establishments like Front Street Brewery, Beer Bario, and Bourbon Street. This way you can take in the fresh Fall air while enjoying a fine meal and perhaps even sipping on a pint, and you can do it all while having confidence in supporting local businesses. There will also be live music being performed at some locations to add to the atmosphere.
The spirit of Wilmington, North Carolina lives on with Downtown Alive. And it is the perfect opportunity for you to experience the city from a new perspective for the season. Brunswick Forest encourages you to stay safe and follow CDC guidelines, but to also take advantage of this opportunity to get out and see what the local area has to offer. The greater Wilmington area is full of treasures around every corner, and adventures that create a lifetime of memories. Regardless if you're already a resident at Brunswick Forest, or visiting through our Coastal Discovery Tour, you will want to make sure to experience Downtown Alive for yourself before it ends!
Downtown Alive hours are:
Thursday: Friday 6:30 pm – 10 pm
Saturday: 10 am – 10 pm
Sunday: 10 am – 5 pm