Leffin the Good Life! Brunswick Forest Resident Spotlight: The Leffins
July 10, 2019
ISWebmaster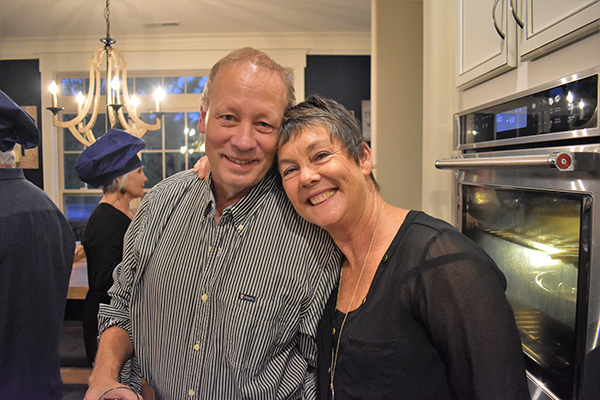 Brunswick Forest has a spectacular centralized location near bustling historic towns and beautiful beaches, a wealth of amenities, plenty of daily activities in and out of the community and premier homes being built. One key ingredient that makes Brunswick Forest such a special place is the amazing residents that live here. Homeowners have come far and wide to call Brunswick Forest home. Each person and family with their own unique story. Residents Mike and Terie Leffin (also known to her friends as Tee) are no different. They have evolved from the new couple on the block, to some of the most outgoing residents you'll ever meet!
Residents Mike and Tee Leffin originally hail from the town of Madison, Wisconsin. After years of coping with the ice and snow, the couple felt that it was time to explore their options and decided to live in a warmer part of the country. "We moved to Brunswick Forest in January of 2016. We left Madison during a snowstorm and just never looked back; it was the best decision that we ever made," says Mike. Imagining how much better life could be without the seasonal doldrums of shoveling their walkway free of snow, the Leffins began searching for master-planned communities to call home. Mike recalls that Brunswick Forest was a community that kept popping up as one of the top places to live in the United States! "We decided that we just had to take a tour and see it for ourselves. Once sales agent Kim Fanelli showed us around, we immediately fell in love with Brunswick Forest," he continues. For Mike and Tee, they find it wonderful that North Carolinians get to enjoy all four seasons and can enjoy their mild winters without having to dress in heavy clothing.
Even though they had moved to an unfamiliar part of the country, feeling at home came quite easily at Brunswick Forest. The couple spent a lot of time exploring the areas inside and outside of Brunswick Forest, and quickly recognized and appreciated all that was offered. Exploring areas like downtown Wilmington also helped Mike and Tee settle quickly into their new life. In time, Mike and Tee began making plenty of friends, and began forming their own resident-sponsored activities. "We are avid Euchre players, and love card games. We knew other residents played Poker but not Euchre. So, we started our own group! On our first meet we had 61 people show up at our house, and that was the start of our own Euchre Club," Mike explains.
Since their arrival at Brunswick Forest, both Mike and Tee have become well known in the community for being very active. If there is one thing both Mike and Tee are known for, is their love for trying new activities and holding events. Their Euchre club being just one of the events they've begun. Once they began to settle into the Brunswick Forest way of living, Mike and Tee's active lifestyles became even more exciting. "Playing pickleball was our next big adventure," Mike tells us after being introduced to one of the community's most popular amenities. "Pickleball in many ways was the real beginning of our social life here. We went from not knowing anyone to meeting dozens of new friends," he exclaims. From then on, Mike and Tee have truly become valued residents, engaging in just about every activity out there. The Leffins will frequent both Fitness Centers, continue to meet new friends at the pool, take advantage of the wonderful performances at Thalian Hall and Wilson Center, play Bocce Ball every month and even watch the local concerts every week in the nearby areas. "One of our favorite concerts to go to is Downtown Sundown," Mike states. Mike also explains that one of the best qualities about Brunswick Forest is that the social opportunities are endless. "It's very difficult for us to pick a favorite activity at Brunswick Forest, because there's just so many ways to have a great time."
Tee Leffin is constantly coordinating  community get togethers for her friends and neighbors. She's organized a great holiday dinner at Thalian Hall for 50 people, as well as an "Amazing Race" scavenger hunt that took place throughout Brunswick Forest. Another fun event she's held are what Mike calls "Chop Parties," where friends divide into teams and try to make the best salad, appetizer, main course and desert using special ingredients!
Indeed, Mike and Tee Leffin do it all. They've traveled all over the world and regularly engage in incredible activities. When we say Brunswick Forest allows you to live your best life, Mike and Tee Leffin are prime examples of what we mean. Above all else, Mike says without a doubt the best part of moving to Brunswick Forest is the friends they've made. He concludes by saying, "We have had many friends in the past, but nothing like the friendships we've developed at Brunswick Forest. There's a certain energy that resonates throughout the community, filled with friends who support each other. It's hard to explain exactly how it feels. You just have to experience it for yourself! We are truly blessed for all we have gained by moving here."