Jump into a Fit and Healthy Lifestyle!
July 9, 2017
Katie McAlick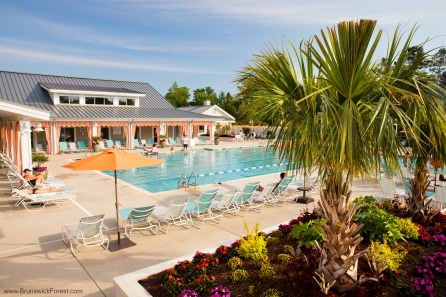 Live a vibrant and healthy lifestyle by participating in the number of fitness programs and resident activities at the Fitness & Wellness Center at Brunswick Forest! The Director of the Facility, Nicole Stone, walks us through just a handful of ways that you can stay active and involved right here in Brunswick Forest.
Meet Friends and Stay Fit!
Looking to dive in on workout classes, or maybe just take a dive in the pool? Either way, there's no better way to meet fellow Brunswick Forest residents while squeezing in a workout! Hit the cardio and weight equipment or come with a group to one of the Group Fitness Classes! With knowledgeable and energetic instructors and trainers, learning yoga, weightlifting, and aerobic exercises are easy! Even participate in an event from our unique list of classes and seminars, like the monthly Cell Phone Seminar, Kayaking trips, or a 2HourArtist class!
Get Out on the Town!
Exploring Wilmington through the Fitness & Wellness Center's monthly events is a great way to get to know the area! Residents love finding new restaurants and markets with the Taste of Carolina guided food tours, taking in sunset views with Wilmington Water Tours' evening cruises, and testing their knowledge with the Cape Fear Escape Room! Stay up to date with all the latest that's happening in the Brunswick Forest community and how to get involved with events, classes, and resident-sponsored activities right at the Fitness & Wellness Center!
866-831-8289