INTRODUCING…NICOLE STONE
August 21, 2016
Brunswick Forest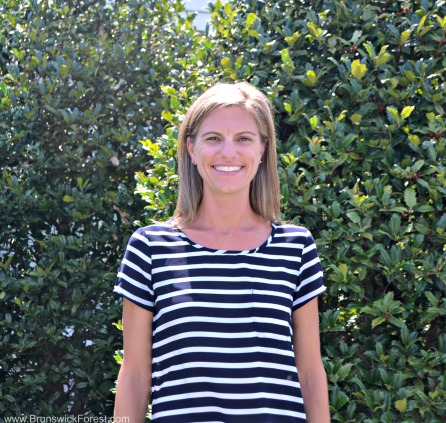 Brunswick Forest is proud to welcome Nicole Stone as the new activities director for Brunswick Forest. In this role, Nicole will organize and plan activities for our residents within the neighborhood and throughout the local community. In addition, she will be responsible for the day-to-day management of the Fitness and Wellness Center. Nicole has a background in event-planning, sales and marketing and brings an enthusiastic and positive attitude to her new position at the center.
Nicole was born in upstate New York and grew up in Salem, Virginia. She has lived in Wilmington for the past 12 years and loves the coastal lifestyle this area offers. When she is not hanging out at the beach, Nicole enjoys running and is training for her third marathon.
EVENT-PLANNING AND SALES EXPERIENCE
Prior to coming to work for Brunswick Forest, Nicole was the director of sales and marketing for the Magnolia Greens golf course. Here, in addition to marketing and promoting the course, she planned golf tournaments, weddings, baby showers and other events. Before that, Nicole was a sales executive for CBS 10 WILM where she wrote commercials and sold advertisements.
OPEN-DOOR POLICY
Nicole is extremely excited about her new position at Brunswick Forest and wants all of the residents to know that she has an open-door policy when it comes to ideas for new activities or suggestions on how to improve existing activities. "I'm honored and delighted to be part of the wonderful team here at Brunswick Forest," says Nicole, "I've met many friendly faces at the Fitness and Wellness Center so far, and I look forward to getting to know more residents in the coming weeks and months."
Welcome to the team, Nicole!