It's ALL Art: Leland Art Exhibition!
May 6, 2022
ISWebmaster
A City of Great Talent
The greater Wilmington area is known for many great qualities, such as white sand beaches, eclectic dining, music, and boutique shopping. But our locale is known for being a haven for incredible artists. Residents and visitors to Brunswick Forest will get their chance to see plenty of amazing artists next weekend, as The Art League of Leland will be hosting its annual exhibition, "It's ALL Art!" at the Fitness and Wellness Center!
All Local Art Under One Roof
Free and open to the public, this dazzling display of local talent is something you don't want to miss out on! The Art League of Leland is one of the largest organizations that supports the arts in Southeastern North Carolina. Originally started to provide artists with resources to meet like-minded souls and hone their crafts, The Art League of Leland has grown many times its original size.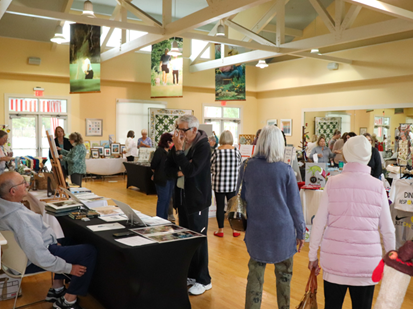 Coming Soon to Brunswick Forest
This gallery will feature the arts and crafts of many local artists, with a majority of them being from Brunswick Forest! In the words of league president, Ricardo Perez, "We are excited to emerge this year with greater creativity and passion. Our annual exhibition and sale will feature some of the best work of artists living in Eastern North Carolina."
A Variety of Mediums
There will be a mix of both traditional and contemporary works. Most focusing on local themes that emphasize the beauty of living on the Carolina coast. Each artist has a unique way of interpreting the world around them, and it's through art exhibitions like this that you come to appreciate that diversity. Some of the featured artistic mediums will include:
Oil paint
Mixed media
Hand-thrown ceramics
Acrylic and pastel paintings
Photography
Fiber
Glass
Wood
Local Art You Can Purchase
More than 60 amazing artists will have their work on display, and if there's a piece you like, you can buy it and take it home with you! A total of over 160 pieces will be available for purchase at this year's exhibition. In addition, art instructor Robert H. Way is traveling from Pinehurst, North Carolina, to judge the exhibit and even hand out cash prizes!
Mark Your Calendars
Overall, this is just an amazing way to spend your weekend, and an incredible opportunity to bring some local crafts home while supporting artists in the community. The Art League of Leland has made a special home here at Brunswick Forest and we are excited to have them back for 2022. Be sure to visit The Art League of Leland over at www.artleagueofleland.org to learn more about this upcoming event. The exhibition will be held on Saturday, May 14th from 9 am – 4 pm, and Sunday, May 15th from 10 am – 3 pm. We all hope to see you there!