An Exhibition of Art and Passion: The Art League of Leland Annual Exhibition and Sale
April 19, 2021
ISWebmaster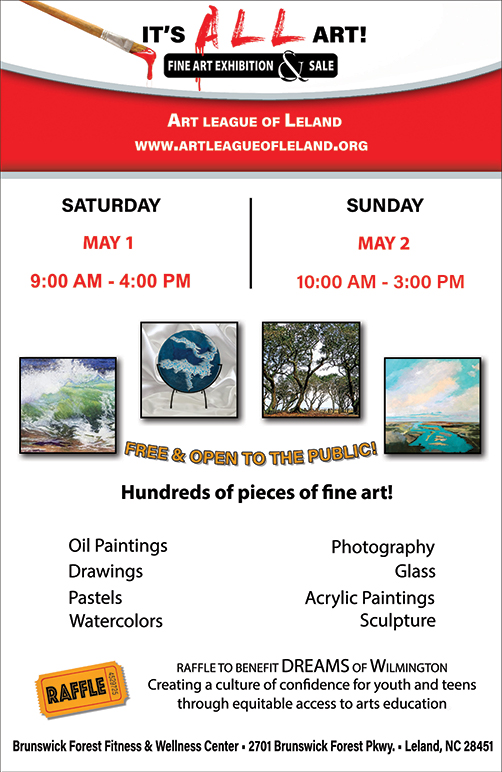 The great thing about art is that you can take your feelings and construct them into a positive form. Now that things are slowly getting back to a sense of normalcy, 65 local artists in Southeastern North Carolina will be displaying and selling their pieces at an upcoming exhibition here at the Brunswick Forest Fitness Center. Ricardo Perez, president of the Art League of Leland, shares why you should attend!
The Cape Fear region has always been seen as a haven for the arts and creative expression. Many of these artists are friends and neighbors and strive to put a piece of their soul in everything they create. Ricardo considers himself a lover of the natural world around him. This passion was enough to land him a position within the National Park Service for 42 amazing years! Born and raised in Compton, California, Ricardo came from a large family and was the only one who got the opportunity to travel all over the country. "I've worked with several great people and locations. I've worked with Ken Burns for the Lewis and Clark film, when I was young, I worked with the wildlife firefighting brigade, and even went to Puerto Rico for Hurricane relief," Ricardo tells us.
His many years with the forest service cemented his love of nature, and eventually, that spread to receiving inspiration for his artwork. "I love to paint. I originally started with dog portraits, but I've since moved on to painting people," he says. After settling down in Brunswick County, Ricardo quickly realized that Southeastern North Carolina was right for him. "What attracted me to the area was the sheer number of artistic communities that welcome you in, almost like tribes. Between music, theatre, and the arts, it's very rich here. The one that happened to find me was The Art League of Leland."
The Art League of Leland is a local group located at the Leland Cultural Arts Center, not far from Brunswick Forest. The purpose of this group is a dedication to the cultural enrichment of the Leland area. This enrichment comes primarily through the promotion of local artists, and using guidance, encouragement, support, and providing learning opportunities for advocation of the arts.
Now the Art League of Leland is looking to hold their annual art exhibition and sale at the Fitness Center here in Brunswick Forest. The event will take place May first through the second and is open to the public. The times for the event will be 9am – 4pm on May first, and 10am – 3pm on May second. There is no charge of admission, and the exhibit will feature a variety of pieces to browse, artists to meet, and even a charity raffle where the proceeds will be going to help Dreams of Wilmington. This is a non-profit organization that offers free programming to children in the visual, literary, or performing arts. "You can purchase any of the pieces you see here at the exhibit," says Ricardo. "This show is going to have some of the most passionate individuals you will find locally. Featuring glassworkers, painters, potters, ceramics, photographers, and maybe even some woodworkers as well."
When asked what makes this upcoming event so special, Ricardo states that it's a great opportunity to support local hearts and passion. "The work here is a direct display of passion. All of this has built up over an entire year of uncertainty, and that builds into what I see as the finest work of these artists." Much of the artwork you can see and buy will focus on the themes of local landscapes, seascapes, Southeastern inspiration, with some freeform mediums in the mix as well.
In terms of choosing our master-planned community as the venue, the Art League of Leland feels at home with us. "The past events we've had here were very successful, the Brunswick Forest team is always very welcoming to artists. It's the right place and right time," Ricardo says.
Overall, this event will be an excellent opportunity to get out, support local products, artists, and enjoy yourself as well. "This is an awakening of the spirit, it's just very rewarding. I encourage residents and visitors alike to see the best artist our local area has to provide." The art community in greater Wilmington is rapidly expanding, and the Art League of Leland's annual exhibition encourages future generations to get involved in the arts.