It's a Good Life with the Goodman's
June 7, 2021
ISWebmaster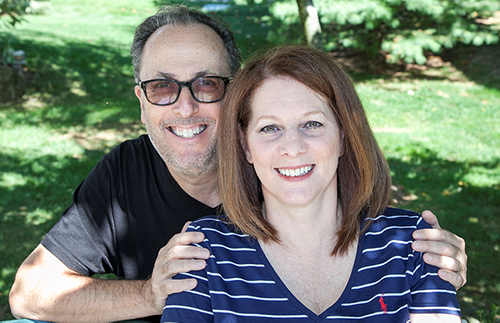 What makes our community of Brunswick Forest so unique, is that each resident has their own tale about how they found us. Alan and Debra Goodman are New Yorkers with deep roots in Westchester County, near New York City. But since becoming Coastal By Nature® here in Wilmington, North Carolina, they've started a new chapter in life and found a new home. This is their story.
Alan and Debra are no strangers to the concept of a tightly knit family and community. While their two sons and families still live in the New York area, they are more than satisfied with Brunswick Forest being their forever home. Just like many residents before them, Alan and Debra had a story that started with a major decision point in their lives. "We were tired of the high taxes in Westchester, and we started thinking about what our next phase would look like. We knew we did not want to live in Florida where both our parents retired to. We met someone who had just bought a home in Shallotte which was too remote for us. But we were intrigued by the area and what it offered," they explain. Their research on Southeastern North Carolina began in 2009, using Southern Living Magazine as a guidepost.
"We had several prerequisites including: a warmer climate, no snow, an area with year-round outdoor activities, within reasonable driving distance to New York, golfing, beach nearby, being close to civilization, and an active Jewish community." These initial focuses led the Goodman's to take road trips down to Wilmington, North Carolina and Charleston, South Carolina to see which area would fit their preferences. But it wasn't until they got to tour Brunswick Forest that they fell in love. "After we toured Brunswick Forest, we felt at home. We liked that the several types of homes and price-points offered us the opportunity to maintain two homes."
Alan and Debra were not the only ones that loved our community. They returned with one of their sons to make sure this would also be a place they would enjoy visiting. "His response was an overwhelming YES," they said.
In 2010, Alan and Debra decided to build a townhome in the Ashwood neighborhood of Brunswick Forest while also maintaining a townhome in New York. This way, they were able to test out the region before making a permanent decision about where to move.
After traveling up and down the East coast four to five times a year between homes, Alan and Debra recently decided to build a larger home in The Lakes neighborhood,
In terms of the different qualities that made them fall in love with our local area, the Goodman's have made it clear that Leland and Brunswick Forest have checked all their boxes. Some of their favorite activities to engage in include golfing, walking, bike-riding, and checking out other model homes for decorating ideas! "We are one of the few who do not play pickleball, but we have taken kayak trips and love to try new restaurants and established favorites. Wilmington is quite cosmopolitan with a wide range of activities and people."
With their soon-to-be–completed home going up in The Lakes, Alan and Debra are excited about a lot of things. Since their move down South, they have seen a steady migration of family, friends and acquaintances from the New York area looking to join them in paradise. "Our home in New York was always holiday central, they add. That tradition continued when they moved to Brunswick Forest. Alan and Debra enjoy inviting new residents over. Overtime these groups have expanded. Now with so many visitors, the Goodman's wanted to invest in a larger home. The home they are building in The Lakes fits that need perfectly with a large formal dining room, enclosed porch, and guest bedrooms. "As this is a new neighborhood, everyone is eager to make new friends. The Goodman's look forward to maintaining their friendships with their neighbors in the Ashwood neighborhood while meeting new friends in The Lakes during the bi-weekly "Cocktails on the Cove" where current and future homeowners trade stories."
The Goodman's love how Brunswick Forest has diverse neighborhoods and amenities to complement your chosen lifestyle. They also appreciate how all their necessities are close to home. For any aspiring homeowner looking to move down and join in the Coastal By Nature® lifestyle so many residents have discovered, we invite them to visit and see what Brunswick Forest has to offer.