It is Always a Great Day for Seasonal Play: Cape Fear National
February 19, 2021
ISWebmaster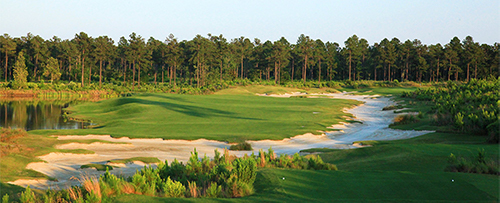 If you want to talk about luxury, supporting an active lifestyle, and enjoying a five-star experience, Brunswick Forest residents have it made with Cape Fear National! This golf course is one of the finest ones you will find North of Myrtle Beach and has been in pristine condition. Club manager Charlie Garaventa speaks with us on why every golf lover should take this opportunity to play Cape Fear National.
To be identified as being a phenomenal championship golf course, the playing areas need to be well-kept, well designed, challenging, and beautiful. Cape Fear National is well-known throughout Southeastern North Carolina as possessing these valuable qualities. Originally designed by famous course architect, Tim Cate, Cape Fear National was designed to use as much of the natural local landscape as possible. The course is punctuated by Tim's signature design features such as long sweeping bunkers, rocky water hazards, and rolling hills that are nestled amongst local faunas. The name of the game is to provide residents and visitors with the ultimate golfing experience, and that is exactly what the course manages to accomplish. It is, quite simply, one of the greatest golf courses in the greater Wilmington area. But you do not have to take our word for it!
Cape Fear ensures that the golfing experience here is always one of a kind. Atlantic Golf Management is a relative newcomer to Brunswick Forest but is no stranger to managing fine golf courses. Through their leadership, Cape Fear National has become even more desirable as a golfing paradise for year-round play. Their team has made a lot of moves to keep the course ready for anyone looking to book a tee-time. "All our greens and traps are new, only about a year old. We overseeded the fairways, so they are like playing on a carpet," Charlie says. "We also dethatched and put a drying agent on the course which helps remove standing water." Even during the cooler months, Charlie and the staff of Cape Fear National have been making sure that the conditions are always optimal for the best golfing around.
Did you know that Cape Fear National was also designed from the ground up to be completely immersive to the player? Even the cart paths are woven in a way where no matter where you tee off from, you will never see the asphalt spoiling your view of the hole itself. It is these little details that make this course aesthetically pleasing and challenging even to experienced players. "Aesthetically, the course is probably one of the nicest, well-manicured public courses in the Wilmington area. You're in the middle of different wildlife and nature," Charlie adds. Amongst all the holes on the course, Charlie feels #15 sticks out the most to him. The hole is a par 4 with an elevated tee-box and a sand trap that runs down the right side of the hole. Though this hole is his personal favorite, Charlie feels that each part of the course is unique.
Even though Cape Fear National Golf Course sits within the premier properties of the Cape Fear National neighborhood at Brunswick Forest, Cape Fear National is a public course that anyone can play regardless of if you have a membership or not! This is not limited to the actual course either, because that rule also applies to The Forest restaurant. "Many people thought that only members can use The Forest restaurant. Members do have certain privileges, but anyone can enjoy the facility. We just started a new menu on February 1st and will be changing The Forest's Favorites section of the menu often," Charlie states. Dine in service has resumed, and take out is offered as well, a very convenient dining option right within the community!
The most important factor in playing at Cape Fear National is knowing you will be taken care of by a loyal and courteous staff that cares about your experience. As Charlie puts it, "The people and members are like family here. It is our version of Cheers! The entire staff gets along great and that's a reflection on our service, to provide a great experience to our guests."
Overall, Cape Fear National is a great course with great service and great food that is available for year-round play thanks to our area's mild weather. The best part is that Brunswick Forest residents have access to such an incredible course right in their backyards and can bring their friends with them to experience it without a membership. Regardless of if you are a hardcore golfer, or just like to play a casual 18 holes from time to time, Cape Fear National is an award-winning choice. For more information call the course at 910.383.3283. Interested in real estate opportunities on Cape Fear National golf course? Call Brunswick Forest at 833-497-1001